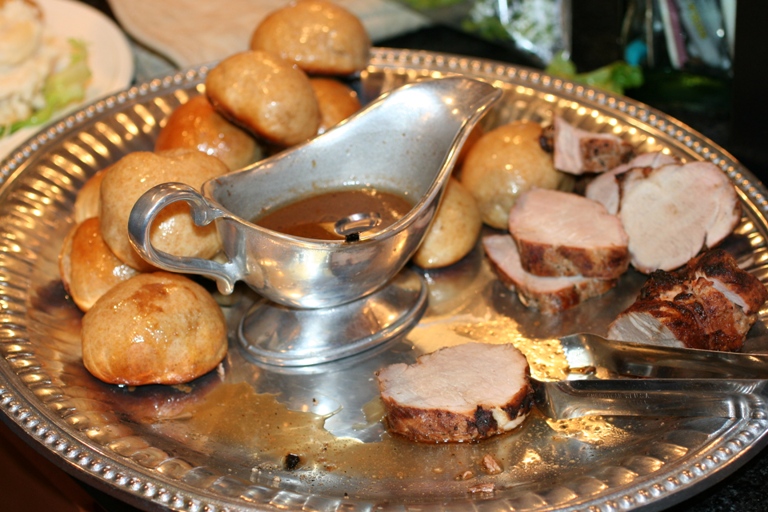 Last night I had my mentors over and cooked them this treat.  As you can see, I forgot to snap a picture before we dug in.  It was so good, that was all I could think about!
*Scroll down to use print recipe feature and add to your Recipe Box.
This is usually my Christmas Dinner meal staple.  I love this because you can prepare it ahead,  freeing you up the day you host your company. The marinade can be cooked as a side sauce, and it goes well with just about anything. I usually look for Pork Tenderloin on sale for around $1.99/lb, then I'll keep it in the freezer until I am ready to make this recipe.
For the best prices on your everyday grocery items, check out my *NEW* Free Provisions iPhone App or download the PDF version.
I cooked two 2 1/2 pound packages for 8 adults, and we had enough for a leftover meal for two adults. If you are only cooking for 4, cut the marinade below in half.  It makes a lot!
My favorite sides with this are homemade cream cheese mashed potatoes, bread machine rolls, and a Mango Avocado Salad with Cumin Dressing.
Marinated Pork Tenderloin
Ingredients
4-6 lbs pork tenderloin
1½ cup oil (canola or olive oil)
¾ cup soy sauce
½ cup red wine vinegar
⅓ cup lemon juice
¼ cup Worcestershire sauce
2 tablespoons dry mustard
2½ teaspoons kosher salt
1 tablespoon black pepper
1 teaspoon garlic powder (or 2 garlic cloves, minced)
Instructions
Combine all ingredients and whisk gently.
Pour marinade into gallon bag with pork tenderloin. Let marinate over night or no less than 4 hours. The longer you marinade, the better this tastes!
Heat grill to medium high heat. Set pork out and let it get to room temperature. This will allow the meat to cook more evenly.
Remove pork from marinade, and reserve marinade. Cook pork for around 25-35 minutes or use a meat thermometer and pull once it reaches 145 -150 degrees for medium.
Let it rest for 5 minutes before cutting. This locks all the juices in. Cut into 1-2 inch medallions.
Heat reserved marinade in a small sauce pan and bring to a rolling boil for about 5 minutes. DO NOT use the marinade without first cooking it! It was sitting in raw meat, so you don't want to do that!
TIP: Serve pork medallions with marinade as a sauce, and I even serve the sauce over the mashed potatoes toos\!  (Or even better, dunk the whole wheat rolls into it!)
Recipe developed by Kelly Hancock ©2010 Faithful Provisions. For personal use only. May not be reproduced, reprinted or distributed for capital gain without prior permission from Kelly Hancock.