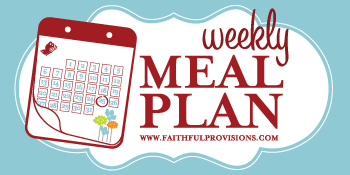 So, I didn't do so well the last half of 2010 in my meal planning and guess what? My grocery budget slowly increased. Needless to say, I will be getting back to it this week! Below are just some things I pulled together according to what I already had on hand.  I am going to make a small trip later in the week for produce and milk. I slid a little in the "being healthy" department, so we are getting back on track to healthier meals too!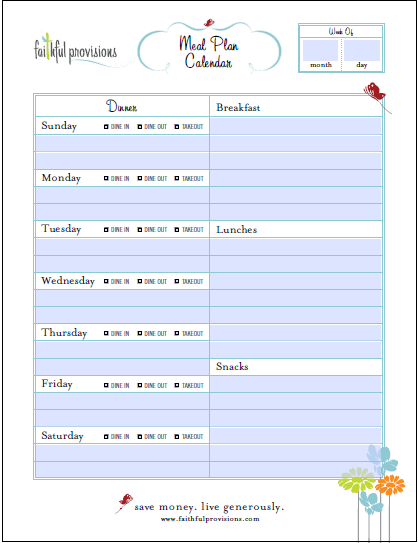 New to Menu Planning? Be sure to checkout my resources below:
My Meal Planning Tab – to help you out while you are getting started – lots of great resources.
Recipe Box – A comprehensive list of all my recipes!
FREE Meal Planning Template – Just click on the image to download it. The best part is that you can even type in your meals and print it out! Or, just print and fill it in. Don't forget to put it on your fridge!
What about you, what is on your meal plan this week?
__________________________________________________
Dinners:
Vegetable Beef Soup, Garden Salad and Cheese Toast
Breakfast for Dinner:  Waffles, Eggs and Bacon
Grilled Fish Sandwich, Sweet potato fries, roasted broccoli
*Using my wild-caught cod for $2.99/lb last week at Kroger!
~~~~~~~~~~
Lunches:
Greek Salad
Tuna fish Sandwiches
Grilled Cheese Sandwiches, sliced apples
PB&J, sliced apples
Morning Star Black bean Burgers
Leftovers – quesadillas from fajita leftovers
~~~~~~~~~~
Breakfast:
Peanut Butter Banana Smoothie, whole wheat toast
cereal, whole wheat toast, apple slices
egg sandwich w/ cheese, fruit
oatmeal, whole wheat toast, sliced apples
Waffles
~~~~~~~~~~
Snacks:
veggies and hummus
v-8 drink
boiled eggs
homemade popcorn or mini-pouches
smoothies
apples w/ peanut butter
applesauce
go-gurts
cheese slices on crackers
~~~~~~~~~~
What meals are you planning this week? Any tips on how to easily meal plan? Whether or not you posted your meal plan for the week, please take a moment to leave your meal plan here. Let's help each other out in sticking to our budgets!