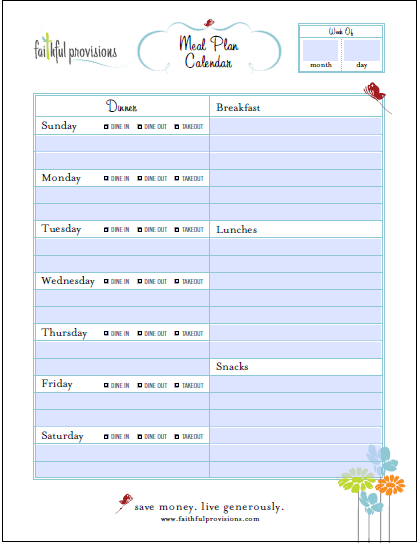 When people ask me how to get started saving money at the grocery store, they are often surprised when I don't give them the assumed answer (couponing). No, I think the number one way to immediately save money at the grocery is by meal planning.
Today, I'm excited to once again be over at (in)courage, where I will be guest posting all week, in fact, as part of the Bloom Book Club. Here's a little excerpt from today's post:
Not many people go to the store with a list, but even fewer people go to the store knowing what they are going to be eating for the  week ahead. Once you begin to meal plan, you'll wonder how you ever lived without doing it! And you will be quite surprised at how much money, time, and aggravation you will save. The real bonus? Having a plan for dinner means you are going to be providing your family with an opportunity for time together. Here are a few simple steps that will help you get started.
I'd love for you to head over and read the full post at (in)courage. Plus, all this week, you can enter to win a FREE copy of my book, Saving Savvy: Smart and Easy Ways to Cut Your Spending in Half and Raise Your Standard of Living…and Giving! At the end of each day's post, you'll get a chance to enter, just by commenting.
Head over to the post check out all the details—it's easy and fun to enter this giveaway, and a total of ten copies of Saving Savvy will be given away this week!