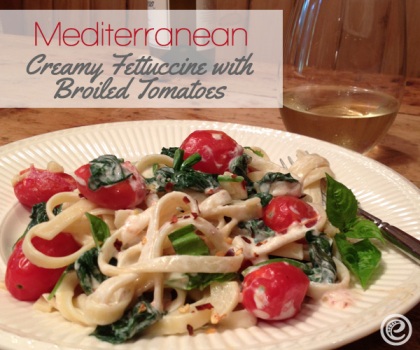 Guess what's new at eMeals? A Mediterranean menu plan! If you're into the Mediterranean eating plan, then you're going to want check out this new menu option. You can give it a try right now with this FREE sample recipe from the Mediterranean menu plan: Mediterranean Creamy Fettucini with Broiled Tomatoes.
*Scroll down to print recipe.
Save on a Year-Long Subscription to eMeals Now! Save 15% on a 12-month subscription to any eMeals menu plan through September 30, 2013 when you use the code: 15%OFF at checkout.
Coming Monday: Join the eMeals Family Day Twitter Party
eMeals is celebrating their annual Family Day by hosting a Twitter party where you'll have the chance to win great prizes including One $50 Williams-Sonoma gift card, one $50 H.H. Gregg gift card, one $50 gift card to Target, and LOTS more! Don't miss it, coming up:
Monday, September 23, 2013 | 10:00 A. M. (CST) | #eMealsFamily
Get all the details HERE.
eMeals Recipe: Turkey-Bacon Tortilla Roll-Ups
Ingredients
8 slices bacon
Mayonnaise
1 (8-oz) package store-bought guacamole
4 (8-inch) flour tortillas
¼ lb thinly sliced deli turkey
1 cup shredded Cheddar cheese (or any shredded cheese)
1 cup shredded iceberg lettuce (optional)
Instructions
Cook bacon in a large skillet over medium heat until crisp; drain.
Spread a thin layer of mayonnaise and guacamole over each tortilla.
Layer turkey, bacon and cheese on each tortilla.
Add lettuce, if desired.
Roll up tortillas, and cut in half.
Makes 4 servings.