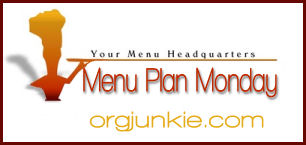 Welcome!  For those of you who are new to Meal Planning, go to my "Meal Planning" tab here to help you out while you are getting started – lots of great resources.
I actually did pretty well in my meal planning last week, we ate each meal I planned.  We just changed up the Rigatoni with Squash & Shrimp, I used the sauce and some cheese ravioli's from the freezer.  YUM!  My daughter even ate this and she is a pretty picky eater. 
I indulged a little this week in my purchases.  I LOVE the expensive feta cheese packed in water, so I purchased a big huge block of it at Costco.  I cut it into 6 equal blocks and freeze 5 of them.  I could live on greek food and this time of year all the fresh veggies make it so easy, plus we do lots of chicken on the grill with it.  I make things like a Greek Chicken Salad, chicken pitas, greek pizzas and more.   I also got a big plastic clamshell of Baby Organic Spinach there, so all together that was about $15 out of my budget, but I pretty much have everything I need for this week.  We will be eating out of the pantry, but just picking up a few things and if the budget allows — stocking up a bit too!  Since I save so much, I have a few key items that I splurge on, a few of them are cheese:  feta and fresh parmesean!
~~~~~~~~~~
Meal Plan for the week of April 13th
Sunday:
(Lunch)   Grandma's For Easter Celebration
(Dinner)  Leftovers!
Monday:   Roasted Sticky Chicken, mashed potatoes, spinach salad w/ fruit and nuts (I cook 2 of these, shred and then make broth to freeze with the carcas.)
Tuesday:    Greek Chicken Salad with wheat pita bread (leftover chicken from Monday)
Wednesday:   Chicken Fajitas or Tacos (chicken from Monday)
Thursday:  Chicken Poppyseed Casserole over egg noodles, steamed veggies or sauteed spinach, homemade wheat bread
Friday: Homemade Pizza (homemade sauce and breadmaker pizza dough), Toppings:  pepperoni, chicken, spinach, pesto, feta, sundried tom., green peppers, onions
(Having friends over and letting kids help w/ pizza!)
Saturday:   Venison Burgers, sweet potato fries, spinach salad
Lunches:
Turkey & Ham Sandwiches, cantelope
Grilled Cheese Sandwiches, sliced apples
PB&J, apples
Leftovers –  Chicken quesadillas, BBQ chicken sandwiches
 
Breakfast:
homemade french toast (freezer), cantelope
strawberry smoothie, whole wheat toast w/ peanut butter
cereal, cantelope
breakfast burrito (egg, cheese, & salsa)
egg sandwich w/ cheese, fruit
oatmeal, whole wheat toast, sliced apples
~~~~~~~~~~
:: Check out more menu planning ideas here.
What meals are you planning this week? Any tips on how to easily meal plan? Whether or not you posted your meal plan for the week, please take a moment to leave your ideas in a comment. Let's help each other out in sticking to our budgets!
For those of you viewing in a reader or via email, click here to see all comments on this post.