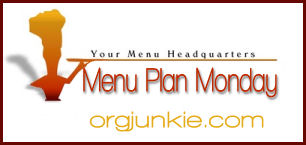 So, how did your week of meal planning go? I can tell the more I do this, the better I get at it. I definitely like doing breakfast and lunch, I just print this list off and put it on my refrigerator and before each meal I just look at it! So easy.
****Be sure to check back on Wednesay for my 2-day giveaway. I will be giving away 5 – one year subscriptions to

E-mealz

!!
:: If you would like some extra inspiration around your meal planning, check out my series on Meal Planning here or go to my Meal Planning Resource Tab here.
~~~~~~~~~~
Meal Plan for the week of February 15th
This is the week of beef. My husband requested pot roast. So, I am doing about a 4-5 lb. roast, (I am using our deer roast, but you can use beef), and it will be enough to get about 4-5 meals for us, plus one freezer meal (empanadas). I will be posting the Pot Roast, French Dip and Beef Stroganoff recipes this week.
Sunday:
(Lunch) Frozen Publix Pizza (Free)
(Dinner) Lentil Soup & croutons (all from freezer)
Monday: Pot Roast , mashed potatoes & peas (from freezer – ore-ida mashers), homemade bread
Tuesday: Beef Empanadas (using leftover pot roast), green salad w/ shredded carrots (this makes 4, so I will freeze 2 for later)
Wednesday: French Dip Sandwiches on whole wheat buns (from freezer), Ore-Ida french fries, green salad w/ grape tomatoes
Thursday: Beef Stroganoff over egg noodles, broccoli (from freezer), rolls
Friday: Spaghetti (from freezer), green salad, rolls (from freezer)
Saturday: Homemade Pizza w/ friends (homemade sauce and breadmaker pizza dough) – we put turkey pepperoni, onions and green peppers on ours!
Lunches:
Grilled Cheese Sandwiches, sliced apples
PB&J, grapes
Leftovers (pot roast & soup)
French Dip w/ steamed veggie/rice (from freezer, green giant mix)
Green Salad, w/ apples, walnuts & cranraisins, rolls
Quesadilla (leftover beef w/ cheese and onions), carrots
Breakfast:
breakfast burrito (egg, bacon, cheese, & salsa)
frozen sausage balls, frozen biscuits, grapes
friendship bread, blueberry smoothie
cereal, sliced apples
homemade waffle sticks, grapes
egg sandwich w/ cheese
oatmeal, whole wheat toast, sliced apples
~~~~~~~~~~
:: Check out more menu planning ideas here.
What meals are you planning this week? Any tips on how to easily meal plan? Whether or not you posted your meal plan for the week, please take a moment to leave your ideas in a comment. Let's help each other out in sticking to our budgets!
For those of you viewing in a reader or via email, click here to see all comments on this post.