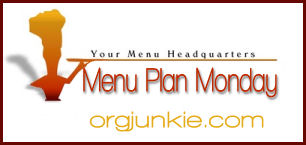 For those of you who are new to Meal Planning, go to my "Meal Planning" tab here to help you out while you are getting started, lots of great resources.
I got some great managers specials deals on organic potatoes, milk (whole & skim), baby spinach, and eggs, so I did some cooking Saturday to put it all to good use (more on that later!).   
~~~~~~~~~~
Meal Plan for the week of March 16th
Sunday:
(Lunch) Hashbrown Quiche (made Saturday, and froze one!)
(Dinner)  Tomato Basil Soup (lots of whole milk to use up!), homemade bread
Monday:  Taco Salad (spring mix, taco shells, black beans, tomatoes, cheese, salsa, sour cream, green onions)
Tuesday: Farmhouse Chicken, spinach salad with strawberries, cranraisins, pecans, homemade bread   
Wednesday:    Spinach, Rice and Cheese Casserole, salad, fruit (made on Saturday, froze one)
Thursday: Shrimp & Grits (recipe this week), homemade bread, green salad
Friday:  Homemade Pizza (homemade sauce and breadmaker pizza dough)
Saturday:   Venison Burgers, homemade steak fries,
Lunches:
Turkey Sandwiches, fruit, chips
Grilled Cheese Sandwiches, sliced apples
PB&J, bananas
Leftovers -quiche, spinach casserole, tacos (leftover beef mixture)
Breakfast:
homemade french toast (freezer), strawberries
blueberry smoothie, whole wheat toast
cereal, sliced apples
breakfast burrito (egg, cheese, & salsa)
egg sandwich w/ cheese, fruit
oatmeal, whole wheat toast, sliced apples
~~~~~~~~~~
:: Check out more menu planning ideas here.
What meals are you planning this week? Any tips on how to easily meal plan? Whether or not you posted your meal plan for the week, please take a moment to leave your ideas in a comment. Let's help each other out in sticking to our budgets!
For those of you viewing in a reader or via email, click here to see all comments on this post.