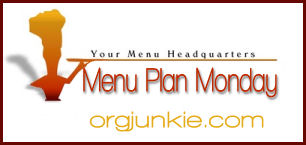 I know there are lots of meal planning newbies out there this week! I want to encourage to keep it simple when you start out. Check out my "Meal Planning" tab here to help you out while you are getting started, lots of great resources.
A few reruns from last week, because we ended up doing leftovers one night and I was just tired and didn't feel like cooking. I know you can relate.
~~~~~~~~~~
Meal Plan for the week of March 2nd
Sunday:
(Lunch) Leftovers
(Dinner) Pasta e Fagioli Soup (I use canelleni or white northern beans, add 1/2 cup each of diced celery and carrots, and you can use any small pasta, I use ditalinni), homemade rolls or bread
Monday: Apricot Pork (I put this in a slowcooker with pork loin or shoulder), brown rice, green giant veggie mix (from freezer), homemade rolls
Tuesday: Shrimp & Grits (recipe this week), homemade bread, green salad
Wednesday: Lasagna (recipe this week), salad, homemade bread
Thursday: BBQ Pork Sandwiches, oven fries (freezer), oranges
Friday: Homemade Pizza (homemade sauce and breadmaker pizza dough)
Saturday: – Brunch For Garrett's 1 Year Birthday Party! Dinner out for my husband's birthday!
Lunches:
Turkey/Ham Sandwiches, fruit, chips
Grilled Cheese Sandwiches, sliced apples
PB&J, bananas
Leftovers – Soup
Pork Quesadillas, oranges
Breakfast:
breakfast burrito (egg, cheese, & salsa)
frozen sausage balls, frozen biscuits,
friendship bread, blueberry smoothie
cereal, sliced apples
homemade waffle sticks (freezer), bananas
egg sandwich w/ cheese
oatmeal, whole wheat toast, sliced apples
~~~~~~~~~~
:: Check out more menu planning ideas here.
What meals are you planning this week? Any tips on how to easily meal plan? Whether or not you posted your meal plan for the week, please take a moment to leave your ideas in a comment. Let's help each other out in sticking to our budgets!
For those of you viewing in a reader or via email, click here to see all comments on this post.