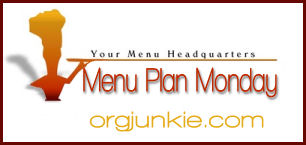 For those of you who are new to Meal Planning, go to my "Meal Planning" tab here to help you out while you are getting started – lots of great resources.
~~~~~~~~~~
Meal Plan for the week of March 30th
Sunday:
(Lunch)  Out at Conference
(Dinner)  Grilled Tuna with Lemon Spaghetti and strawberry salad, homemade rolls
Monday:   Fajitas (frozen marinated flank steak, & peppers)
Tuesday:    Crockpot Dijon Pork, mashed potatoes, steamed broccoli
Wednesday:   Black Bean Enchiladas
Thursday:   Rigatoni with Squash & Shrimp, homemade bread
Friday:  Pork Fried Rice (leftover pork from Tues), Ginger & carrot salad
Saturday:   Homemade Pizza (homemade sauce and breadmaker pizza dough), toppings:  green peppers and pepperoni or pesto, sundried tomatoes, and feta
Lunches:
Turkey Sandwiches, fruit
Grilled Cheese Sandwiches, sliced apples
PB&J, bananas
Leftovers – pork quesadillas, fajitas, pasta  
Breakfast:
homemade french toast (freezer), strawberries
banana smoothie, whole wheat toast
cereal, cantelope
breakfast burrito (egg, cheese, & salsa)
egg sandwich w/ cheese, fruit
oatmeal, whole wheat toast, sliced apples
~~~~~~~~~~
:: Check out more menu planning ideas here.
What meals are you planning this week? Any tips on how to easily meal plan? Whether or not you posted your meal plan for the week, please take a moment to leave your ideas in a comment. Let's help each other out in sticking to our budgets!
For those of you viewing in a reader or via email, click here to see all comments on this post.