I have had quite a few comments on readers not being able to see their Faithful Provisions updates on their Facebook account lately.  I found this information on For the Momma's and Deal Seeking Mom that you might be interested in.
Here is a tweet from Deal Seeking Mom about how to "fix" the newest Facebook change!
If you are a Fan of Faithful Provisions on Facebook, you may have noticed you are not seeing our feed or others any more.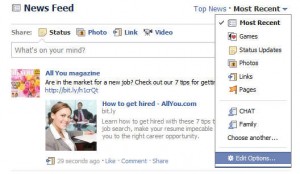 Here is how to fix it:
At the top of your Facebook home page click Most Recent.
Then click the down arrow next to Most Recent and select Edit Options.
A small box will pop up, and you want to choose the All of your friends and pages option.
If you aren't following Faithful Provisions on Facebook, head on over and "like" us to see all the latest deals and recipes.