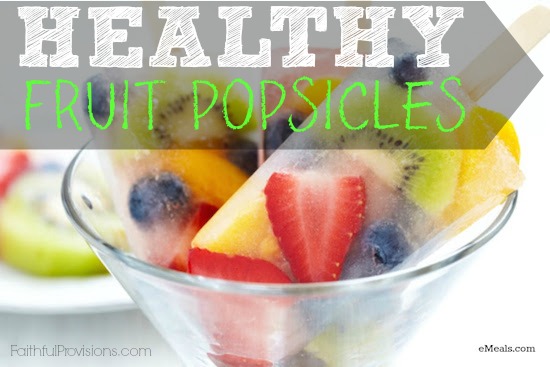 Mixed Fruit Popsicles
I love making homemade popsicles for my kids.  My kids love them as a summertime treat and I love knowing exactly what is in them.  Popsicles can be a very healthy treat, depending on what you put in yours. I love this new recipe from my friends at eMeals for Mixed Fruit Popsicles.
Back to School is a great time of year to try eMeals. It will make your transition back into a routine that much easier! Sign up now to Save 20% Off with promo code SCHOOL plus get a FREE Back to School PDF!
Mixed Fruit Popsicles Recipe
Ingredients
1 kiwi, peeled and sliced
1 peach, peeled and chopped
1 cup strawberries, sliced
½ cup blueberries
2 cups Vita Coco coconut water (great brand to use because it's sweet)
Instructions
Combine all fruit in a mixing bowl and place in your favorite popsicle mold.
Pour enough coconut water in each mold to just cover the fruit.
Freeze overnight.
TIP: taste your coconut water and see if it's sweet enough prior to pouring into mold. If not, in a separate mixing bowl add coconut water and your favorite sweetener to taste. Then add to popsicle mold to cover fruit.
Learn more about how to save money when you make your own popsicles on Faithful Provisions!