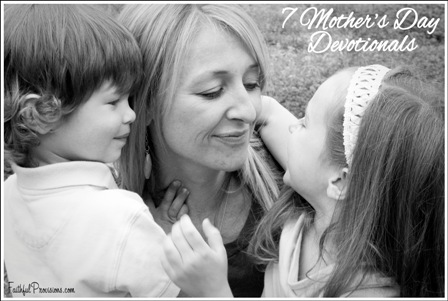 Mother's Day Devotions
Looking for Mother's Day Devotions? Here are 7 Mother's Day Devotions that I hope will help you think deeper about the very important role you have been given. Please leave comments. I'd love to hear your thoughts. It is so special for me to be able to celebrate another Mother's Day with my kiddos. Devotions about parenting and what God has taught me through being a mom are the ones closest to my heart.
Devotions for Mother's Day
There are seven devotions for Mother's Day below. You could easily do one devotion each week as sort of a "countdown" to Mother's Day, or you could do one every day of the week preceding Mother's Day. These devotionals for moms will help you grow closer to God and realize anew the very important role you have a mother.
The Desire to Please – Every child has the desire to please. Perfect for Mother's Day, this devotion reminds me to direct my children's desire to please straight to their Heavenly Father. (Read more HERE.)
Parenting Like God – If we want to parent like God, we must be sure to follow through with consequences when our children make wrong choices. Such a hard one for me! (Read more HERE.)
Pouring into Our Children – I learned you don't have to be a perfect parent to pour good things into your children. The best thing you can invest in them is a foundation of Biblical truth and worship. (Read more HERE.)
A New Perspective – Often as moms, we just need a new perspective. This Mother's Day Devotion reminded me that it is best to view life from a lens of thankfulness. (Read more HERE.)
One Thing that Changed My Quiet Time – Quiet time doesn't have to look like what I want it to, but it will be best when it looks like what the Lord wants it to–even it that means it isn't very quiet! (Read more HERE.)
Walking Towards Joy and Thankfulness Do you have joy in the journey of motherhood? I didn't for a long time… (Read more HERE.)
Take a Moment – When you really think about it, every day is Mother's Day. Devotion to God first, family second, and myself last is where I always find peace. (Read more HERE.)