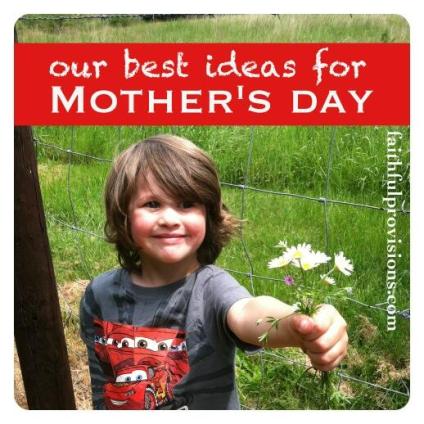 Welcome to the Faithful Provisions Mother's Day page! You'll find our best ideas for Mother's Day and all the wonderful ways you can celebrate this precious God-given role we have in bringing up our children–and in honoring the one who raised us, too!
What Day is Mother's Day?
Once you figure out what day is Mother's Day (tip: It's always the second Sunday in May), we've got loads of ways to help you celebrate. You know, Mom really isn't all that hard to please. She really just wants to be loved for who she is, and appreciated for what she does. So, that said, you can check out our quotes and poems to make a very personal, one-of-a kind card for Mom. Browse through all of our gift ideas, too, including budget-friendly ones! And of course, if you want to say it with flowers, we've got the scoop on where you can get fresh, gorgeous prices at a discount.
:: Find links to all our best Mother's Day ideas HERE.
She is clothed with strength and dignity, and she laughs without fear of the future. When she speaks, her words are wise, and she gives instructions with kindness. She carefully watches everything in her household and suffers nothing from laziness. (Proverbs 31:25-27)
What's on the Mother's Day Menu?
Now if you're planning your Mother's Day menu, you know you can always count on me to provide you with great recipe and meal-planning options that are simple enough to leave you with time to enjoy the day yourself. You'll love what we've done this year here at Faithful Provisions: We've included gluten free menu plans and recipe ideas that will help create a delicious meal for every member of the family.
:: You can find the gluten free menus and more great menus for Mother's Day HERE.
Charm is deceptive, and beauty does not last; but a woman who fears the Lord will be greatly praised. Reward her for all she has done. Let her deeds publicly declare her praise. (Proverbs 31:30-31)