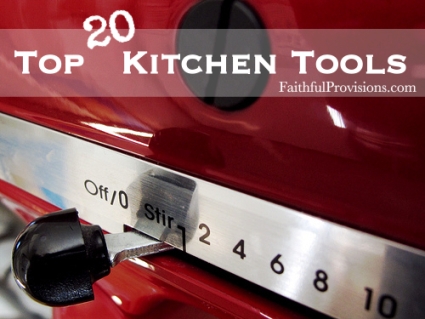 Because I love to cook, I am often asked about my favorite appliances and favorite kitchen tools. If it makes the job easier, then I am all for it! After all, I am in my kitchen a great deal of the time, and I love being there. I love spending time putting together new dishes as well as teaching my kids to love serving others and love expressing themselves through their own unique food creations. But I want it to be fun, and I want the time I spend in the kitchen to be efficient. So here's my listing of my top 20 kitchen appliances. These are tools that I use, that I rely on, and that I enjoy.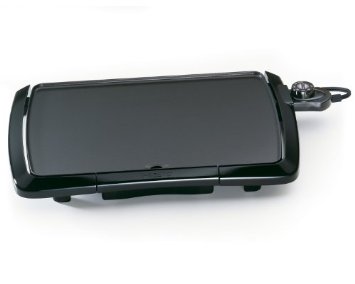 1.  Electric Griddle – This is by far my favorite kitchen appliance. We use it every single day, sometimes multiple times. It has a non-stick coating element, and as often as we use ours in a year, I have to update it occasionally. I find the best deals on Black Friday, with prices going as low as $12. Department stores like Kohl's and Dillard's will often run a store sale in the fall or around Mother's Day as well. I use mine to make quesadillas, grilled sandwiches, fried eggs, bacon—you name it.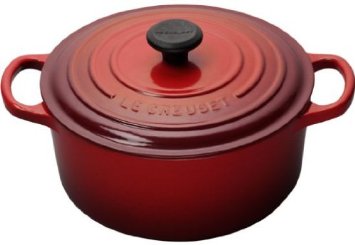 2. Cast Iron Dutch Oven– A Dutch Oven is something that I have readily available, and I use it a couple of times a week for things like browning meat and making soups. You'll find all kinds of price ranges on these, but my favorite is the pricier brand Le Creuset. What I like about Le Creuset is that it has an enamel coating that makes it pretty much nonstick. You'll also find these are great for deglazing. Honestly, I use my dutch oven all the time. I have one in red and one in lime green. (Le Creuset has a lifetime warranty, which is a big reason why I chose it.)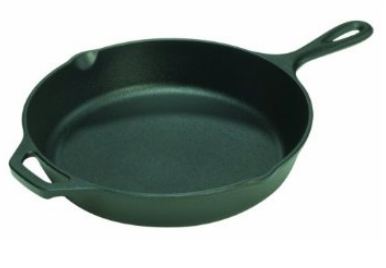 3. Cast Iron Skillet – I love my cast iron skillet. You can always buy one pre-seasoned, but if you can, get one at a flea market, or a yard sale, or even see if your grandmother has one. The best ones are the ones that have been seasoned over many years. I have had challenges getting mine seasoned properly. You can cook anything in it.
4. Silicone Baking Mat– As much baking and roasting as we do, I use this every time. It's basically a silicone cookie liner. It makes crispier, brown, perfect cookies, and it's great for roasting vegetables too.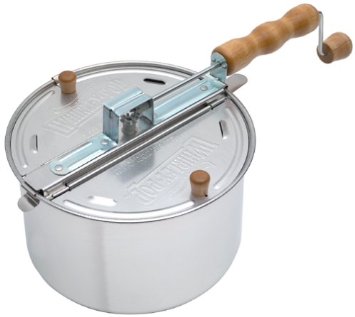 5. Popcorn Popper – We use ours 2-3 times a week to make our own popcorn. It's the perfect afternoon snack for the kids, plus it's always great for movie night! Checkout my favorite way to make homemade popcorn!
6. Vitamix High-Power Blender  – I use this for smoothies almost every day. My Vitamix is a high-powered one, and a pricier option, but it is industrial grade. I love mine, it's smoothie grade like you get at a smoothie place. One of our favorite things to make is to put frozen bananas in it for banana ice cream.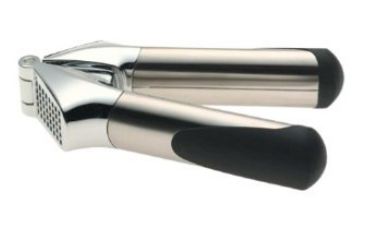 7. Garlic Press — The name says it all. The more garlic, the better.
8. Juicer – If you're into juicing, this is the one to have. The price is fabulous. This is my favorite. I did a lot of research before I got one. This one is easy to clean up, easy to use, and compact. You'll love it.
9. Knives — There are four knives every kitchen must have: a paring knife, a Santoku knife (this is my go to knife; I grab it for everything), a bread knife, and a serrated knife. Hinkle is a great brand. I suggest you get high quality knives. It's an investment. Have your knives sharpened about once a year.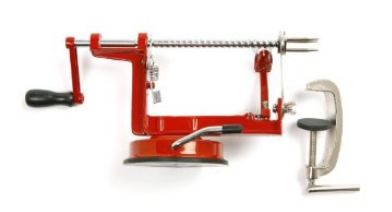 10. Apple Peeler Corer Slicer – This has changed the way we eat apples. I used to dread peeling apples for the kids until I got one of these. What a time saver! Not to mention, it saves me a lot of aggravation! I save all my remnants for my juicer, so nothing goes to waste.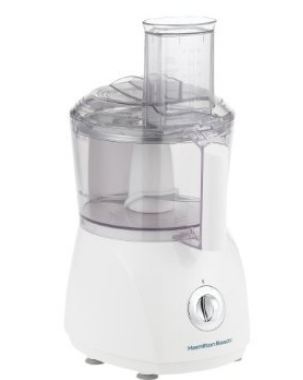 11. Food Processor — I use my food processor when I need to process something heavy or thick that needs to be smoothly pureed.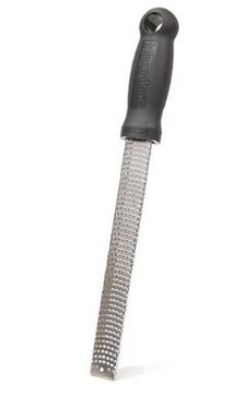 12. Microplane Classic Zester/Grater – This is a simple tool, but invaluable. I love using this to zest lemons, limes, and oranges when I'm cooking. I like the big rectangle size HERE, but long skinny ones (pictured above) work great too. I also use these to grate cheese. The fine ones are for zesting; the coarse ones are for grating cheese. (I actually use mine a lot more now because I no longer buy pre-shredded cheese because of all the anti-caking agents used in it.)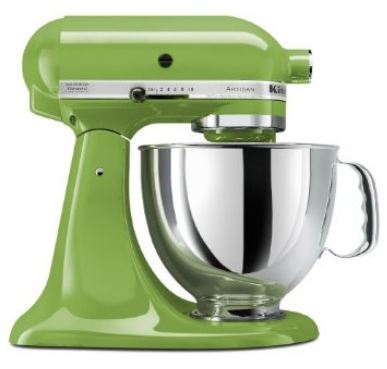 13. Kitchenaid Mixer –This mixer is great for baking, but probably my favorite use for it is in making our holiday sausage balls recipe. It makes making sausage balls simple, and so easy to get everything mixed in. There are lots of attachments for this mixer–you can do so many things with it. There is a pasta attachment, a meat grinder, and more. Plus, it comes in some beautiful colors that will match anyone's kitchen.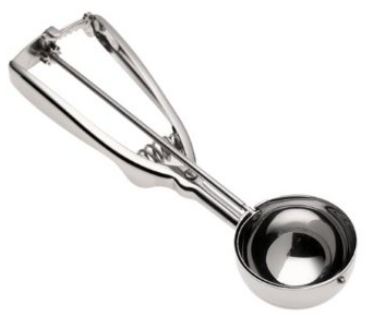 14. Ice Cream Scoop (small) – I use this not just for ice cream, but also for baking and measuring out cookies, cupcakes, and muffin batter. It works great to ensure that everything is the same size.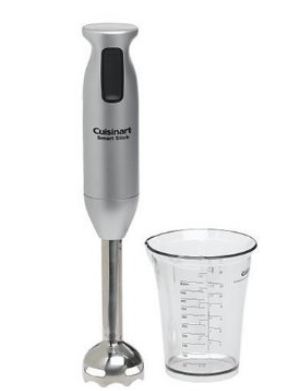 15. Immersion Blender –This was something that I wanted for so long, and I finally got one. I make so many soups, and I have almost burned myself many times putting hot soup into blender. (See my post: How to Puree Soup in a Blender.) With an immersion blender, now I can make my Roasted Butternut Squash Soup or Tomato Basil Soup and do it right in the pot, rather than waiting for it to cool down, transferring it to the blender, and then reheating.
16. Breville Toaster Oven — Once you get a toaster oven, you will wonder how you ever did without one!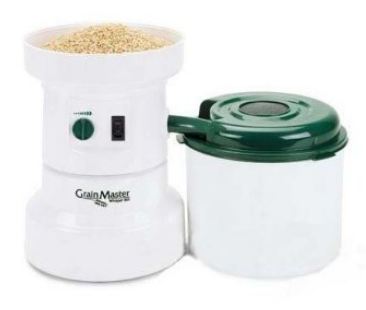 17. Whispermill Grain Mill (wheat grinder) — This is great for grinding your own grain for bread. I use mine at least once a week, here is my favorite homemade bread recipe to use with the freshly milled flour.
18.  Melamine Stackable Mixing Bowls  -I use these every day, for making batters, scrambling eggs, making guacamole, and more. I love the fun colors.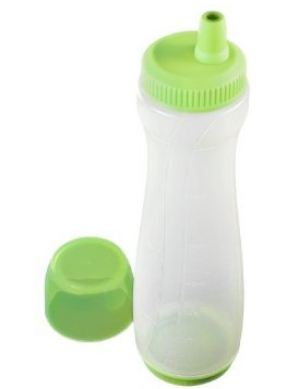 19. Pancake Pen – Seriously, this is a great little tool. You will be able to get your pancakes all the same size, or you can get creative and easily make fun shapes and letters for the kids. I also use this for making no mess waffles.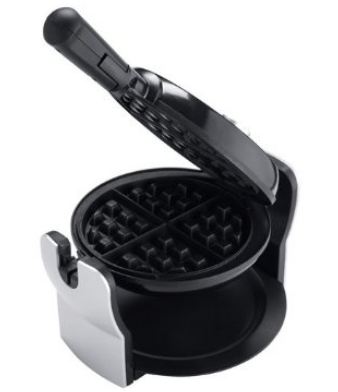 20. Waffle Maker – I know a lot of people are into Belgian waffles, which are great. It's the perfect weekend breakfast or Sunday brunch. (The waffle maker I have actually makes waffle sticks, which are the perfect size for my kids.)
Okay, what am I missing? What do you consider an invaluable kitchen tool? The Faithful Provisions Facebook Community weighed in HERE with their top picks. Many mentioned a bread maker, so take a look at all the options for bread machines HERE on Amazon.