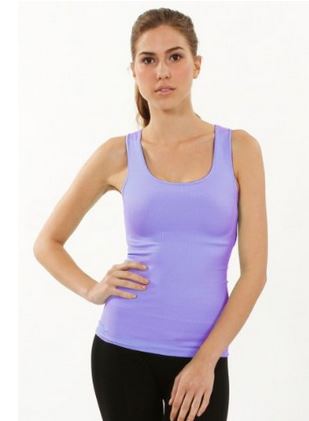 I want to share with you a little gem I found out about. When I was in Nicaragua with my fried Edie, she told me about these wonderful Sugarlips tank tops to layer under your tops and they are wonderful! They provide really good coverage. (Don't let the pictures on Amazon fool you–you can pull them up as high as you want, with minimal crawling back down!)  These tanks cover my cleavage area and under my arms. The comfortable wide straps completely cover my bra, so I can easily wear these layered under tops that might have less of a strap. I don't wear these as a top by itself. For me, they are the perfect first layer before I add something else!
Now here's the added benefit that makes these a must-have for my wardrobe. They are made of a material similar to Spanx, so they are very slimming (while still really comfy!). They basically hold me in, and I love them for that! I love to wear these under button up shirts for a pop of color, or under a shorter shirt so that the bottom (which is nice and long, I'm able to pull it down below my hip bone) peeks out underneath and provides the coverage I prefer. Plus–the price is right–less than $15.
They are one-size-fits-all, so there's no guessing about the size. You're only dilemma will be choosing a color because there are so many to choose from.  My favorites are the Smoke (which is a perfect taupe and grey mix–it goes with black or brown!) and the Mustard. I wear mine all the time. I think the colors appear a little brighter on Amazon than they really are, so keep that in mind when you order.
Just wanted to pass along what I consider to be the quintessential fashion layering piece–one that holds you in but is so comfortable you could even sleep in it. (And I sometimes do!)
Order Your Sugarlips Tank
Order your Sugarlips Tank from Amazon for just $13.93! Let me know your favorite colors, and be sure to let me know if you like these tanks as much as I do!