I wanted to share with you the books from my 2012 Reading List that I ended up reading in January. I read some really great ones. I'd love to hear what you've been reading, because I always love adding to my list! Click on any of the book titles or book covers to go to Amazon to read more about them.
Kisses from Katie by Katie Davis — For me, this book was a life-changer, most importantly in the way that I approach my role as a Christian and what my job is here on Earth. This book was amazing. It gave me a sense of purpose, reminding me why God put me here. I realized that I need to prioritize what I am doing for His Kingdom. The author, Katie Davis, says it's not about ending world hunger, but it's about serving whoever is right in front of you. This book was very encouraging, inspiring me to be more intentional about how I live as a Christian.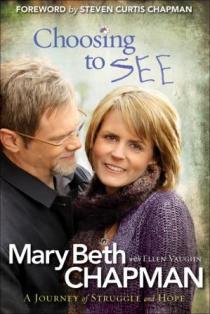 Choosing to SEE by Mary Beth Chapman – This is the heart-wrenching story detailing when Stephen Curtis Chapman's family lost their daughter Maria in a tragic accident. I'll admit I was hesitant to read it at first because I didn't want to be faced with the possibility of what it's like to lose a child, but I'm glad I did read it. It gave me a close-up look inside the daily life of a family who is committed to the Lord, even through life's storms. Plus, it gave me tangible examples of how to lead my children to Christ. Like Kisses from Katie, this book reminded me again of the importance of our priorities and putting the Kingdom of God first. That's why I'm reading these books. It enforces the need for me to reevaluate my priorities and to be intentional about how I live everyday. For example, in something that may seem small, such as when I'm working on the computer and my daughter wants my attention. Why put her off or ask her to wait? Life is too short.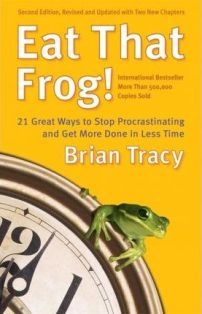 Eat that Frog: 21 Great Ways to Stop Procrastinating and Get More Done in Less Time by Brian Tracy – This is a very quick read. In fact, I skimmed a lot of it. Full of great information, it's a motivating refresher course on how to get more things done, how to prioritize, and how to manage your time more effectively. My husband and I both read it within a couple of days. It was not rocket science, just chock-full of critical ideas and important reminders of the simple rules of time management.
The Power of a Praying Wife by Stormie Omartian – I've read this book multiple times, and I recommend it for any wife. In fact, I suggest you get a copy and keep it handy. I love it. It gives me specific ways to pray for my husband, and often it encourages me to pray for things I would have never even thought about. My friend Rebecca once told me that she had used this book to pray for her husband since 1997! The book is divided into 30 prayers, one for each day of the month. You can pray through the book in its entirety 12 times a year, literally covering your husband in the power of prayer. I also love the Scriptures that it has at the end of each day's prayer. (It makes a great gift for all those spring and summer brides-to-be too.)
What are you reading? How are you doing with your own 2012 Reading List? I'd love to know!