I often hear from readers that it is not possible to eat more natural or organic and save money. While it is definitely a little trickier and the deals aren't as plentiful, there is still plenty to be had, especially if you know what to look for. Here is a small sampling of what I found this weekend while out with my daughter doing a little shopping. We love to try to use all-natural toiletry products when we can, and let me tell you they are much more pricey than their conventional counter parts!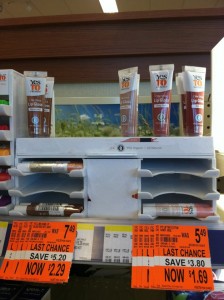 Walgreens had their "Yes to Carrots" lip products and other body products on orange tag clearance. Tinted lip moisturizer was as low as $1.69 each! Plus, there was a $3 off $10 Yes to Carrots printable coupon in my coupon database to pair that with. I grabbed some for stocking stuffers, gift baskets and just fun "happy's" for family and friends that I know would enjoy them.
We also did a quick run into Kroger's to grab some of those $1.88/lb organic red or green grapes to flash freeze. I dropped in also for some avocados to freeze as guacamole. I bought 14 for just $7!!

While there, I found a display of Gud lotions and body wash products with a $1.50 off any Gud product coupon tearpad right on the display.

As I walked around the corner I then found the same items on a manager's markdown shelf at just $3.49/ea (reg. $6.99), making them only $2 each!!

I am hoping to start canning some tomatoes and pickles this summer and after printing the $3 off 2 cases of Ball or Kerr jars, I found the Ball jars for just $7.99/case (12 jars) at my Kroger. This made them only $6.50/case and according to my Facebook readers that was a great deal. Now, I just need some tips on canning tomatoes and pickles. Anyone have a really good pickle recipe? I'd love a good dill and spicy dill recipe!
So, just by keeping my eye out for coupons on the types of products I want to purchase, I was able to combine coupons with clearance items to get some fabulous deals, that ended up making my purchases up to 75% off.
I'd love to hear what you found this weekend. Leave it in the comments below.