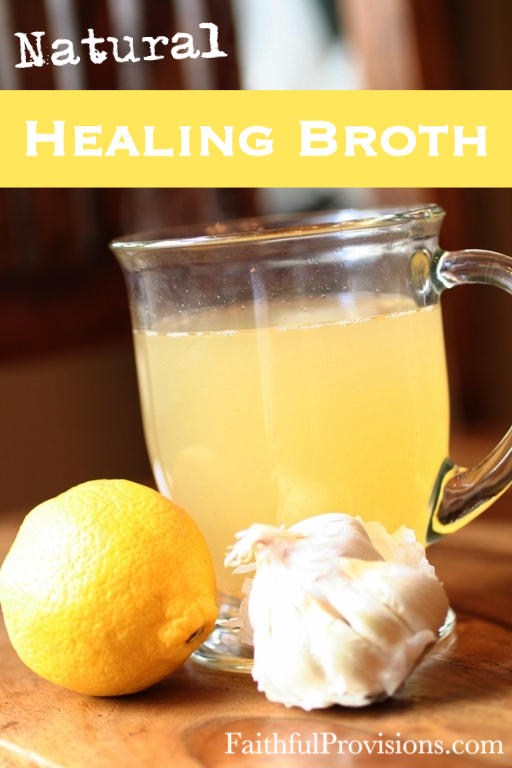 This natural healing broth is my go-to home remedy anytime I start feeling under the weather. When I get achy, cold, and the beginnings of a sore throat—when I know that my immune system has run down–I crave this. (I also crave it even when I'm not sick. It's got so many great healing properties, and I know how good it is for me.) This week has been one of those weeks when I have not been feeling very well. I've been fighting off a sinus infection and a respiratory issue, so I made a big pot of this recipe for natural healing broth.
*Scroll down to use print recipe feature and add to your Recipe Box.
Natural Home Remedies
Just looking at a list of the ingredients I use in this healing broth gives you a glimpse of the power of natural home remedies. Take a look:
Lemon – Lemons are known for their strong antibacterial and antiviral power. They boost the immune system, plus serve as a digestive aid and help in cleansing the liver.
Ginger root – Ginger root is a favorite natural medicine in many cultures. It's known for being an anti-inflammatory with antiviral properties that help ward off colds and flu.
Garlic – Studies have shown that garlic is the most potent, all-natural antibiotic available.
Cayenne Pepper – Cayenne clears clogged sinuses and helps alleviate the symptoms of colds and flu.
A Natural Healing Medicine
I can feel good about giving this broth to my family. It's a natural healing "medicine" that I know is safe. When I give this to my kids, I back off on the cayenne pepper. They can't take too much spice! But for my husband and me, I add as much cayenne as we can handle, and sometimes I will even sprinkle a little more in my own cup. (Bring it on!)
Feel free to add more or less of any of the ingredients, simply using my recipe for healing broth as a guide. I also go with what I have on hand. When you're not feeling well, the last thing you want to do is head out to the store. Also, I usually double or triple this recipe so that I will have it to drink for several days. (This will keep in the fridge for a week or two.)
Does All Natural mean All Organic?
Does all natural mean all organic when it comes to making your own batch of this natural healing broth? Well, whether you are able to go all organic with the ingredients or not, this is still a great home remedy. However, with a healing recipe such as this, I prefer to go as organic as possible. Here are my recommendations:
Use distilled water. Distilled water is important because you actually can't boil out all the impurities in tap water. Those impurities can actually negate the healing properties that you want when making this broth.
Organic lemons. I prefer to use organic because you'll notice in the recipe below that we will be using the entire lemon. After you juice it, you will add the complete rind to the pot. You want this to be pesticide-free, but if you can't use organic, then please wash it well.
I use a mixture of 1 part vinegar to 2 parts water for washing fruits and vegetables. I keep it in a spray bottle and use it with a vegetable brush to clean well.
Ginger root. If you don't use organic ginger, remove the skin. If you use organic, then leave the skin on.
Garlic and Cayenne. Use what you have on hand, but keep in mind next time you are at the grocery that the organic versions of these are very inexpensive.
Honey. Again, use what you have available. However, a natural, raw honey is the best route.
Natural Healing Broth
Ingredients
6 cups distilled water
1 whole lemon, juiced. Do not discard rind.
2-3 tablespoons of fresh gingerroot, medium slices
5-6 garlic cloves, crushed (Crush with the flat side of knife to release the juices, then drop the whole thing into your pot.)
¼ to ½ teaspoon cayenne pepper (to taste)
Honey to taste
Instructions
Put water in a medium saucepan on high.
Add lemon (juiced) and entire rind, gingerroot, garlic.
Bring to a rolling boil, then reduce to medium. Allow it to cook at a low, rolling boil for about 15 minutes. You will see the color begin to change and deepen.
Add the cayenne pepper.
Strain.
Add honey to taste to individual cup.
I have a cup-sized mesh strainer that I put over my cup so that I can strain it one cup at a time. (I keep the broth on the stove on low throughout the day when I am sick.) After I have added honey, then I taste it. If I can handle more cayenne, then I will add more.
What is your go-to home remedy for colds and flu season? I'd love to know what you're doing to stay healthy this time of year.