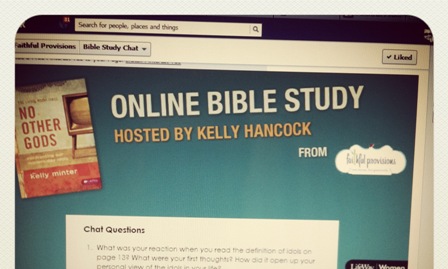 I knew that this week's discussion would be great, and it was–as usual! I really feel like I am getting to know everyone, and I hope all of you are enjoying this virtual group. It's different doing a Bible study this way, but I can honestly say that I am learning so much and I feel like we really are becoming a little sisterhood. I love that!
Question 1: In what ways do we let the world tell us what will make us happy? Are they the same three things that attracted Eve to the fruit in Genesis 3:6? How do we talk ourselves into things that cause us pain? (p. 58)
Laverne: I believe the things the media push at us become what we believe will make us happy…lose weight or live a better life.Same as Eve..
Kelly: That advertising which is shoved in our faces either via the TV, magazines, billboards, songs, etc.
Clarice: We let the world tell us what makes us happy by following what we think society expects of us: what looks good, what is pleasing, and what we think gives us wisdom. Yep, they are the same three things that attracted Eve to the fruit.
Question 2: What are some ways Satan deceives us, twisting around the true words of God to do it? How do you struggle with things that are "true" versus the "Truth"? What's the difference? (p. 62)
Laverne: It seems Satan lies about our character, trying to block out Gods promises.
Katie: It's that rationalization again. Satan so easily shows you how your situation *seems* to be different, not playing by the rules.
KellyH: I loved the comment she made "In order to stick with the truth, we have to know it". It is so true, we need to abide in him, and know his word and the context it is given to us in so it will not be distorted.
Question 3: Do you ever doubt God's words to you? Do you wonder if you understood Him correctly? How can you be sure you are hearing His voice? (p. 65)
Martha: oh yes this lesson was my fave of the week: did God really say?
KellyH: When things don't go as I expected, I assume I heard the Lord wrong. But I have to remember he will set my heart on what is true if I am open to him, I can't worry about hearing or understanding him correctly, because even in my weakness he is revealed.
Kelly: If it doesn't pan out as I wanted, I try to decide was it "me" or peer pressure? Did I hear God right. Then I try to calm down and remember that God knows the plans he has for me. If plan A didn't work, I guess he has a plan B or C or …
Abby: It's hard to keep my guard up against Satan's lies when they are so widespread among those around me.
Question 4: In regards to pop-culture phenomena like "Fifty Shades" and "Magic Mike," how did this comment from the author affect you? "To think that we are unaffected by what we watch, read or listen to is deceptive thinking." What do you think Paul is saying in 2 Timothy 3:14-16? Have you been convicted of something God is trying to purify in your life? Is it hard to let go of these items to pursue the Truth?
KellyH: What has amazed me is that Christian women are openly reading and talking about how great it is, it scares me that we have been so dulled by society to not realize what some are doing.
Clarice: This part of our Bible Study lead me to think of my sons and what they read online and how what they've read online has affected them, their attitudes, and taints perspectives.
Abby: It's pretty shocking how widely accepted these things are- I know I've really been convicted in the past few months to avoid a lot of things that I used to just consider guilty pleasures as far as TV shows.
Katie: TV shows are not much better. It is amazing what does not phaze us any longer. If my husband wanted to go see something like this I would be heartbroken.
Abby: This type of media changes people's idea of what is a normal, healthy relationship and can be extremely detrimental to relationships with spouses.
No Other Gods Week 3: Overview -This week the study focused on "The Lies of Idolatry." If you missed my overview and what God revealed to me be sure to head over HERE to see what I learned from the study this week!
::View our chat in its entirety HERE.
There's still time to get in on our study. You can get all the details HERE.
I'm already looking forward to next week! Please note: Next week only, we will meet on Monday (not Tuesday) at 8pm.