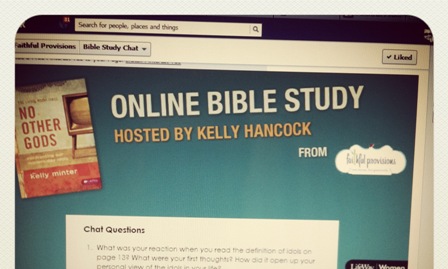 As we go deeper into this study, I'm being reminded of some Old Testament stories that I haven't thought about in a while. No matter how many times I have heard them, however, they are always fresh and hold something new for me when God brings them back up in my walk with Him. Here are some excerpts from our Week Five chat.
Question 1: After reading Numbers 11:5, what did you think about the statement by the Israelites, "at no cost." Do we do the same by only having selective memory?
Clarice: The Israelites seemed to have forgotten the cost: loss of freedom and sons. I think we do have selective memory-a way of coping.
KellyH: I find myself to frequently having a "selective memory". I tend to forget all the promises of God, but only think about what has not been answered. Not what has. Unfortunately, I many times can relate to them and how they react to God.
Glenda: Sad that they were "comfortable" in slavery
Question 2: Why do you think the Lord chose to give them what they craved in the story of Numbers 11:1-35? Do you think the Lord's response was too harsh? Since we read the story knowing the true heart of God, what was really happening?
Kelly: Well, he was answering their prayers. I don't think it was too harsh. He was trying to get a point across to them. That he had provided for them & would continue to do so.
Rebecca: Tough love, LOL
KellyH: This story really hit home for me. I always say "be careful what you ask for", but I have learned the hard way that I need to first seek his plan. IF I seek his plan for me, then my prayers and requests to Him will reflect what HE wants for me, not what my flesh wants. And if I develop a relationship with him in this way, then my prayers are answered, but they are really his will for me. Make sense?
Glenda: I think we want what we want and God knows what is best for us, but we still desire it and CRAVE it
Question 3: In Numbers 13:2, why do you think God wanted them to explore the land first, even though He was already promising it to them? How do your obstacles compare with the promises God has given you?
Phyllis: He wanted them to obey Him
Clarice: I think God wanted them to see that He keeps His promises.
Rebecca: I think He also wanted to open their eyes to what He could do, just more revelation for them of who He is…
Kelly: To get their perception of the promised land — to prove that he was faithful.
Question 4: Before reading Tozer's excerpt on p. 115, had you ever considered Isaac as Abraham's "idol"? How did this make you feel about your own relationships?
Glenda: I am shocked at how relationships can be idols. We need to keep them in check and let nothing come before Him.
Betsy: I wasn't surprised by the thought of Isaac as Abraham's "idol." I guess I had thought of it that way. Isaac was his most valued possession, and a child should not be thought of as a possession.
Kelly: I hadn't thought of it in those terms but after thinking about it, it made sense. Really opened my eyes to that fact that I have made some people into idols and that really hit hard!
Clarice: I never considered Isaac as Abraham's "idol." So now I'm thinking that maybe I've been placing my relationships with children and husband as "idols."
No Other Gods Week 5: Overview and Video
This week the study focused on "Good Goodbyes." If you missed my overview and what God revealed to me be sure to head over HERE to see what I learned from the study this week!
Get all the details about our online Bible study HERE.
See you next Tuesday!