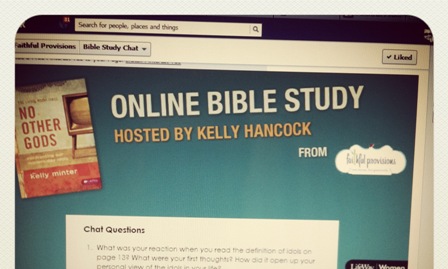 This week's study was a challenge in looking at my own disciplines when it comes to time management, prioritizing, and how important it is to spend time at the Lord's feet. I think everyone else was thinking the same thing! Below are the chat notes from our discussion.
Question 1: The author begins this week's study with the observation that we spend too much time trying to rid ourselves of our idols, and only a miniscule amount of time knowing the One true God. Do you agree?
Abby: I think that's tricky because I think a lot of the time we spend our time wrapped up in our idols without realizing them, but definitely not enough time focusing on knowing God!
Clarice: I agree. Personally, I need to spend more time knowing God than I do worrying or stressing over my functional gods.
Lisa: I agree. I know I need to increase my time knowing God vs too much time with my functional gods/idols
Betsy: I was thinking that trying to avoid having idols can easily become an idol itself. By seeming more virtuous others may be envious, but that that is not goal at all, rather the goal is to be closer to God
Abby: One thing that stood out to me was when she talked about the man selling his guitars to make room for cigars… unless we fill in that space with God, we will replace it with another idol. I think that's why it's so important to focus not only on making room but also then on focusing on Him.
Question 2: Do you believe spiritual starvation is one of the main reasons propelling us to false gods, as referenced in Isaiah 55:1-2? Why? How have you seen this play out in your own life?

Clarice: Yes, I believe that spiritual starvation can propel us to rely on false gods. Rather than seeking God's guidance in the Word, we end up trying to control things ourselves. I've realized this personally, so I've made it a goal to read at least one chapter of the Bible each day. I've never completely read the Bible, in full.
Lisa: I do think so because when we allow His presence and His word satiate our soul with the richest of fare, we won't have such a need/desire to be filled up by false gods.
Rebecca: I think we definitely go to idols because we are trying to fill up some sort of emptiness that we are not "feeding" with the Word and relationship with the Lord
Betsy: Immediate gratification is such an easy pit to fall into, so I would agree.
Question 3: What did you learn from doing the exercise at the bottom of p.129? What did God's "action" words reveal to you?
Betsy: It wasnt until I reread it and wrote down the verbs that I realized that God was repetitively beckoning us to whom.
Abby: I agree, over and over "come"
Clarice: I realized that I need to "listen" and "give ear" more to God. I turn to Him and seek Him, but need to concentrate more on listening.
Lisa: I loved that God is inviting us to come, listen, spend time with him. I really liked seeing all the action words listed in front of me.
Betsy: I imagine God standing on a box speaking to the crowd, trying to get their attention that they can avoid all of the other merchants and get their needs met from him.
Question 4: What was your Psalm choice on p.131 and why? What is your favorite part of that Psalm?
Lisa: I chose one not listed, Psalm 63. My favorite part is "My soul clings to you, your right hand upholds me."
Betsy: Psalm 139. I chose it because I'm in the process of reinventing myself and it was for -"struggling with Identity and Self-worth" It reminded me of a childhood memory when I felt extremely close to God. I used to say to myself that God is always with you, and I was thinking that as I was jumping off and on my front porch trying to "fly."
Clarice: I chose Psalm 37 because I wanted wisdom and encouragement for handling upcoming work responsibilities. My favorite part of that Psalm was the verses dealing with trust in the Lord and verse 7, "Be still before the Lord and wait patiently for him; do not fret when men succeed in their ways,…"
Abby: I read Psalm 18 and liked "God- His way is perfect; the word of the Lord is pure. He is a shield to all who take refuge in Him"
No Other Gods Week 6: Overview
This week the study focused on "God of Gods." If you missed my overview and what God revealed to me be sure to head over HERE to see what I learned.
We are nearing the last two weeks of our study. You can get all the details about what we've been doing in this online Bible study HERE.
Have a great rest of the week, and we'll meet again next Tuesday.