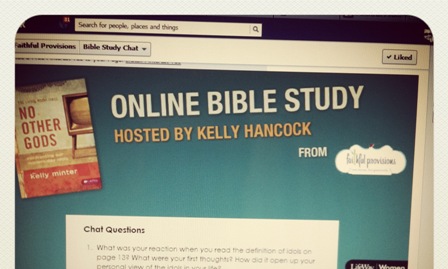 What a great week with our Faithful Provisions Online Bible Study! I think everyone is beginning to feel comfortable in our chat room, and we had a lot of people joining in tonight! I am truly enjoying this group. I am learning so much from each of you, and we are learning together.
In case you couldn't make it to our online study, here are the questions we discussed, along with some of the comments I picked out from the chatters. I would love for you to leave comments below with your own thoughts.
Question 1: The author of our study notes that "women everywhere are caught in an endless pursuit to discover their identity." What does it really mean to "find your identity in Christ" (a great Christian cliché that we often toss around without knowing its true meaning)? Which part of our identity listed on the top of p.38 means the most to you and why?
Abby: This question really stood out because I realized how much we (or I at least) try to find my identity in other things- now I realize those are idols!
Jessi: Knowing that I'm a special possession of God's means a lot to me.
Martha: Pretty important to be chosen and yet we chase after you name it looking for our id
Martha: I belong to Him. That says it all.
Question 2: What was your reaction to Hannah's prayer, especially knowing that she had just dropped off her toddler son (around 3 or 4 years old) to live forever in the temple with the priest instead of at home with her? Could you have done it? How did that make you feel reading that?
Clarice: Hannah rejoices in God answering her prayer, in this she finds joy and identity in the Lord…doesn't rely on other gods or idols. She is an example of patience to wait.
Ivette: It somewhat made me feel bad because to drop of my son to live forever was a huge sacrifice. I know I would totally struggle with myself especially because I have a son
Kelly: I'm taking care of my 4 y/o grandson & I don't know if I could have done it. I look at him & at the person he is becoming and my heart just broke thinking about it.
Clarice: Amazing that she had the strength to leave her son behind; what trust, what faith! And then to praise God too.
Question 3: What is your first reaction when the Lord seems to be quiet in response to your prayers? Do you take charge of the situation or do you continue to leave it with Him? What helps you to keep trusting Him? Do you have favorite verses or praise songs that you use to boost your faith during those times you are waiting for Him to move?
Laverne: Umm many times I just wait and leave it with the Lord, all i have to do is look back and I know He will provide His Word says it. I keep a song close by ummm Great is Thy Faithfulness is one of my favorites.
Ivette: Thats a really hard question because sometimes I can be really impatient with things which isn't my best quality. So yes sometimes I do try to take charge and hope that God will lead my way but I know sometimes its good to wait for what he has planned and trust that He knows best for me and my family!
Clarice: Patience; that is so challenging for me! I tend to try to take charge of the situation, but more recently, I have been giving it to Him. Sometimes I think things turn out better when my prayers have been answered in ways I couldn't imagine.
Kelly: Okay, I will admit, I DO NOT do a good job of waiting. I am pretty impatient and that is one of the areas I struggle with daily.
Lisa: Isaiah 64:4 has helped me! Our willingness to wait reveals the value we place on the object we are waiting for.
Glenda: Is anyone else like me? A control freak? I think I am totally like Sarah. I seem to always want to help God out. I'm not good at waiting. I honestly seem to not think of it at the time as a lack of trust, but instead justify it in so many ways. However, His will always prevails even if it seems like I am swallowed by a big fish & spit out. I often feel like Jonah. I think listening to His word helps me more than anything. I like to listen online to some of my favorites like Tony Evans preach truth
Phyllis: I have learned to examine myself for any sin that would keep God from hearing me (Psalm 66:18) Then I make sure that the prayer lines up with the Word of God. Many times I find that it doesn't. It is my "self" and "flesh" instead of His Godliness through me praying. If I am clean and it lines up, and I ask His will, then His plans go forward. I had to learn not to manipulate the hard way!
Question 4: The Israelites turned the Egyptian plunder God had blessed them with into the form of a golden calf they could worship. What are some ways that we turn God's gifts into gods?
Abby: I think we are prideful of our accomplishments when we are given our talents as gifts from God, and then we use them to satisfy worldly desires instead to to serve Him.
Kelly: Money … if you don't have enough, you "fear" but if you have extra … WOW! What can I get with it? Instead of putting it towards missions, etc. It's about me & what it can do for me. How I will feel when I get "such-n-such".
Ivette: I sometimes turn my work into my idol because even though God has blessed me with the opportunity to have work closer to home I still want more which is bad.
Glenda: Oh, this final question, I could write my own book on. I am slowly realizing that our blessings can become our curse. You read about the Israelites and you think "Hello, did you forget about the parting of the water?? etc etc…, but truthfully, I am just as guilty. We put other things that He has blessed us with in front of Him. Worshipping the blessings instead of the Blesser! So much to learn. Please pray for me as I dispose of some of my idols. My house is too full!
Some verses that were referenced during the chat were:
Trust in the Lord with all your heart; do not depend on your own understanding. Seek his will in all you do, and he will show you which path to take. (Proverbs 3:5-6)
So you have not received a spirit that makes you fearful slaves. Instead, you received God's Spirit when he adopted you as his own children. Now we call him, "Abba, Father." (Romans 8:15)
For since the world began, no ear has heard and no eye has seen a God like you, who works for those who wait for him! (Isaiah 64:4)
Also, take a look at this article one of the chatters recommended:
That Idol that You Love, It Doesn't Love You Back by Justin Buzzard
No Other Gods Week Two: Overview and Video
This week the study focused on "Why Idols?" If you missed my overview and what God revealed to me be sure to head over HERE to see what I learned from the study this week!
:: View our chat in its entirety HERE.
There's still time to get in on our study. You can get all the details HERE.
Can't wait til we meet again next Tuesday!