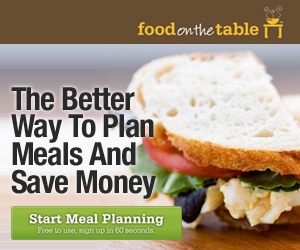 If you're still struggling with doing a weekly meal plan, then you'll love this deal. Hurry over to Food on the Table and get their online meal planning service FREE for life when you use promo code SPRINGFREE throughout the month of April.
Here's how to get started with your new meal plan:
Click here to go to the Food On The Table site
Enter your email address under "Join Now" on the right side of the screen
Enter coupon code SPRINGFREE, if it's not already filled in for you
NOTE: If you sign up through Facebook, you will NOT get the option to enter a coupon code
Click Next to start your meal planning!
NOTE: This offer is for NEW Food On The Table users. You can sign up for meal planning each week for free.