Guest Post by Liz Jenkins, CPO of A Fresh Space
Time to finish up the Homeschool project with 'containerizing', labeling and creating storage & workflow! This week we will be finalizing Kelly's homeschool area.  Read more on Organizing My Home – Homeschool Area (Part 1) here!
How We Did It
We've already sorted and purged, grouped like with like and also grouped items together that are used together (this is key when organizing). Now we've repurposed an armoire and an unused hall closet for storage and easy accessibility using built in shelving, bins, letter trays and labeling.  Kelly's poor husband got drafted into construction mode but the resulting shelves were so worth it!   Checkout his custom built shelves below.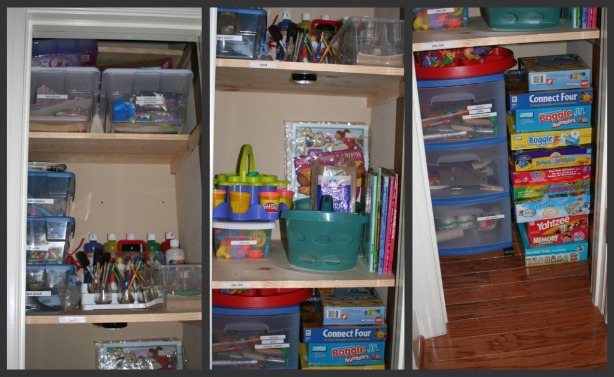 What we used to organize:
built-in shelving
bins
portable drawer systems
letter trays
labeling system
The Process
First, we placed like items in bins (my all time favorite storage), used letter trays for easy access to papers, and contained frequently used craft and school supplies in storage containers.
Next, we set these items up where they can be used easily and accessed. Lastly, we also separated out items by function…
used only by kids
items Kelly and the kids used together
materials that only Kelly used (the armoire was perfect for this!)
This way, things were set up in the most efficient manner, plus it kept the kids from getting into the teacher materials.  It made it easy for Kelly to do her lesson plans without digging around for, you know, the planning stuff.
Tip: The more you use something, the closer it should be to your work space.
Saving Money When Organizing

Organizing doesn't have to be costly, and being organized can save you a lot of money over time just by not re-purchasing things you already own or in the time you save searching for things.  This is why you should never buy containers or storage materials until you know exactly WHAT you are storing and HOW you are going to use it.  Most of organizing is in the thought process, then sorting & purging.  The containers & labeling are last – and you'll probably need less than you think.
Really taking a look around and using what you have can be a great cost saving measure – and thinking outside of the 'box' you may have unintentionally created for yourself.  In this case, thinking we could only use the small, originally designated area to hold everything for homeschooling was unrealistic and un-necessary.
We also didn't need to purchase a whole lot of extra things because we were able to repurpose many of the containers and furnishings that Kelly already owned so we kept our budget minimal.
Check out the whole story (including places I shopped and more after pictures) at afreshspace.com to see what I mean!  And, if you have kids, check out Tips For Organizing Kids from A Fresh Space.
So, do you home school or work on school projects with your kids? What's your biggest organization problem? Ask it here, and I'll answer!
About Liz Jenkins of A Fresh Space
Liz Jenkins, Certified Professional Organizer and owner of A Fresh Space, specializes in helping people in their homes or small businesses streamline their lives so they can be more effective, productive and not so stressed out and frazzled.  A self-professed life-long organizing geek, Liz wields a label maker with style and can sort & containerize with a wave of her magic want (not really but wouldn't it be cool?).  De-cluttering, figuring out what to do with all the papers, wrangling the kids toys, managing emails & calendars, creating order out of chaos . . . these are the things that make her day.  Find more organizing tips on her blog, A Fresh Space.