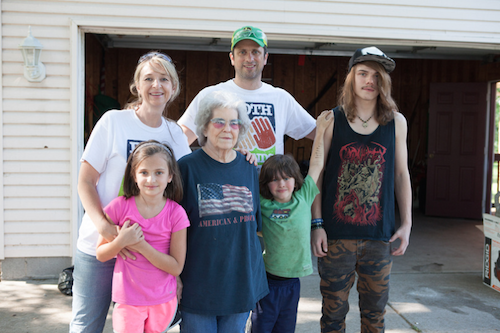 My last adoption update was over a month ago and I sincerely apologize. It has been a whirlwind of adoption paperwork, organization, phone calls and more just to keep my head above water.  That's not even including finishing out the school year! I am sure you can relate. In order to remain intently focused on our adoption needs, I've had to step away from the blog for a little while to focus.  However, this has given me the opportunity to make great strides in bringing our precious baby home!
Last time I wrote, we had decided we were going to use Both Hands Foundation to help fund our adoption. I am so glad we made that decision. While it has been a lot of work, it has been so fulfilling!  Not only are we working towards bringing our sweet baby home, but we also got to serve the sweetest lady and her grandson. Every single person that was a part of the project was blessed. I wish you could have seen everyone's smiling faces… Oh, yeah, you can!
Below is our project day video. It shows all the work done on Ms Betty's house. The transformation was AMAZING! I have so many stories to tell, but most of those will wait for another post. I'll share a few of them with you below, but encourage you to please watch this video.
*As you can see, the transformation was amazing. Be sure to look at the before/after of the bathroom and the "blue" room.  It's not even recognizable!!!  We painted the walls, tore up carpet and it completely transformed the blue room. Her 15 year old grandson, Jonny, even asked if he could switch rooms!
We were very fortunate to have Larry offer to do our video, of Larry Reeves Photography (you should check him out!). Even though we didn't know Larry prior to this project, he enthusiastically offered to help us out. He was only supposed to come for a few hours and shoot the video.  However, he was having so much fun working (yes fun, beating rugs!) he asked if he could stay the whole day!
My favorite part of the day…
In order to work on Ms Betty's house, we set up some activities for her and her grandson to do while we worked. Around lunch time they came back and asked what time they should return. Much to my surprise, her grandson asked if he could stay and help!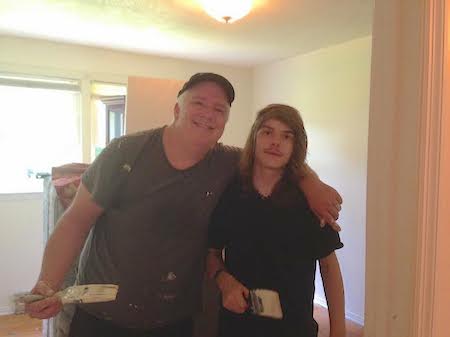 I assumed it was a "teenage thing" that he wanted to make sure we didn't mess up his room. 🙂  It wasn't. He truly wanted to help. Watching the men on our project come alongside him, get him involved, and encourage him was just amazing. At one point he looked up at the team he was painting with and said, "You know, I've never painted before and I really like it!"
If you feel pulled in any way, we could still use your help! We have collected $20,000 so far, which is AMAZING! However, we still need over $15,000 more to reach our goal and bring home our precious baby.
Head over to our adoption page HERE to donate online.
By clicking on the Donate button below, you can be a part of our journey in caring for orphans and widows.