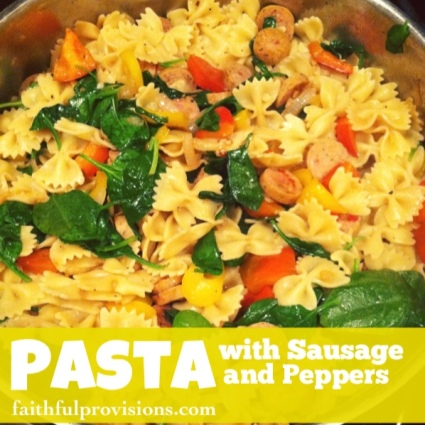 Everybody has been asking about this recipe since I put it up on my Pinterest account this week. I'm so happy to share it with you as it was a healthy recipe that my entire family loved–even the kids!
Remember, as with any recipe, you can make this adapting it to what you have in your pantry. For example, you don't have to use bow tie pasta. My kids think that the bow ties are fun, so I tend to use them in my pasta recipes. Elbow macaroni or penne would work just as well. If you have green peppers instead of red, use those! And you can sub out the spinach for kale or chard, whatever you happen to have in your fridge.
This recipe is easily halved, so you can save half of it for another meal, but my family wanted the leftovers, so it was gone in two nights. Nice not having to cook on that second night!
Alternative red sauce option: If you want it to have a sauce, add in a can of diced tomatoes (do not drain) with a tablespoon of pesto. (Try my Basil Pesto Recipe.) This will make a nice, chunky sauce that tastes wonderful with this dish. Add it into the drained pasta, then stir it all in with the veggies.
Pasta with Sausage and Red Peppers
Ingredients
1 Box of bow tie pasta
1 package chicken sausage (Use your favorite flavor--mine is jalapeno), sliced about a ¼- to ½-inch thick)
1 red bell pepper (diced into larger pieces)
1 yellow bell pepper (diced into larger pieces)
1 medium onion (diced into larger pieces)
4 garlic cloves, minced
½ cup of chicken broth
2-3 cups fresh spinach
Grated Parmesan to garnish
Instructions
Boil pasta according to package directions
While it's boiling, sauté peppers, onions, and garlic in a tablespoon of oil (I use grapeseed, but Canola would work fine) for 3-4 minutes on one side of a large skillet.
On the other side of the skillet, brown sausage.
Once it starts browning, mix everything together.
You'll notice that carmalization will be taking place on the bottom of your skillet. Little pieces of sausage and vegetables will start sticking just a bit as it browns. This is the good stuff!
Add spinach at this point, and pour in broth.
Stir everything around, scraping up the brown bits off the bottom, until the spinach starts to wilt.
When spinach is wilted, add drained pasta.
Serve with a liberal dousing of Parmesan cheese.