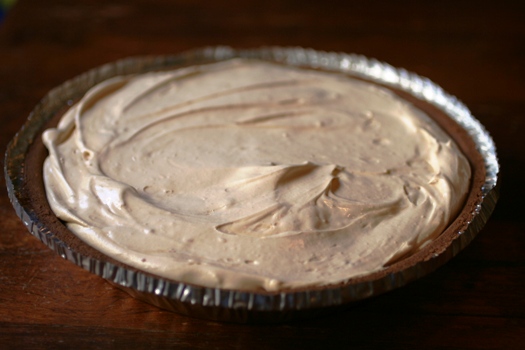 I tried this one quite a few years ago when I was preparing meals for our freezer, it is an absolute cinch and all the ingredients are staples that go on sale quite frequently, but especially this time of year.
This is just a creamy peanut butter pie that tastes like ice cream, but what makes it is the chocolate sauce you drizzle over it before you eat!  You can opt for chocolate or the traditional graham cracker crust.  I like the Oreo personally, anything chocolate.
Peanut Butter Pie
1 bar cream cheese, softened
1/3 cup peanut butter
1 cup powdered sugar
1/2 cup milk
1 tub non-dairy whipped topping (like Cool Whip)
chopped peanuts, for garnish (optional)
chocolate sauce for serving
First beat cream cheese and peanut butter together until well mixed.  Next add milk and powdered sugar.  Be careful not to place your beater right in the middle of the powdered sugar or you will have a mess.  Start on the sides.
Mix in the whipped topping until fully blended and creamy.
Pour into a pie shell and garnish with chopped peanuts.  Freeze a minimum of 6 hours before serving.
Serve drizzled with chocolate sauce.
Print Recipe: Click on the green "print friendly" icon at the bottom of this post, and check "remove images" for a printable version.
Recipe developed by Kelly Hancock ©2010 Faithful Provisions. For personal use only. May not be reproduced, reprinted or distributed for capital gain without prior permission from Kelly Hancock.