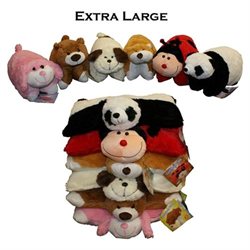 I don't think these are the original "Pillow Pets" but they look almost exactly the same and they are half the price, plus you get free shipping. You can purchase any of the Cuddlee Pet Pillows for just $10.99 after the $1 discount and free shipping.  I have been looking for these for less than the $19.99 price and this is the best price I have seen.
There are six different styles to choose from:
Brown Bear
Cream Dog
Pink Bunny
Red Ladybug
Tan Cat
White Panda
Get your Cuddlee Extra Large Pet Pillow for just $10.99 now!
Thanks, Chelle!