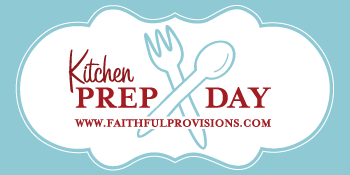 Welcome to my second edition of Provisions Prep Day!  This is a monthly post I will be doing to show you how I utilize what I have in my pantry and freezer to make our meals and snacks. I will be joining Crystal at Money Saving Mom and Life As Mom in their Freezer Cooking Day for my Prep Day, and I am excited to try a few of their wonderful bread machine recipes linked below! I will be posting my progress on Facebook and Twitter, so join me and post your progress too!
I want to encourage you to join me in some fashion, so you can start practicing how to use all those items you have stocked up! You don't have to take 2-3 hours like I will, you can do 30 minutes here and there when you have time.  Start out by taking 20 minutes after you get home from the grocery to flash freeze the great veggies you got on sale.  Or take 45 minutes in the afternoon to make a few batches of homemade muffins to freeze for snacks throughout the week.  Whatever your time frame, you can fit something in. It is about starting small.  See the results, and that will encourage you to add more each month.
Here are the items I am going to be making tomorrow afternoon:
My Master Plan:
Start Buttery Roll dough in bread machine.
Make muffin batter and put first batch in oven.
Roll out roll dough balls and let rise.
Start Cinnamon Roll dough in bread machine.
Make pizza dough and roll out into 4-6 mini pizzas.
Make homemade pizza sauce.
Put Cinnamon Rolls in oven with pizza dough crust.
Assemble pizzas and undercook while Buttery Rolls cook.
Glaze Cinnamon Rolls.
Are you joining me in February Provisions Prep Day? If so, leave a comment and let us know what you are planning to do!