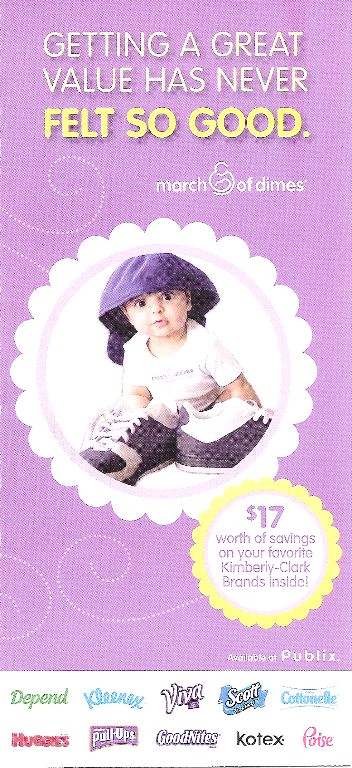 I found a new coupon booklet at my store, pictured here.  It is a Kimberly-Clark booklet, for the March of Dimes. Here are a few of the store coupons I found inside. There are over $17 in coupons, plus there is a rebate for a $10 Publix gift card when you buy $35 in Kimberly-Clark products.
:: If you can't find this in stores, read more on the March of Dimes site.
$3/1 Huggies Box diapers
$3/1 GoodNites product, 21-27 ct
$3/1 PULL-UPS Training Pants 33 ct or larger
$1.50/1 Huggies Baby Wipes, refill
$1/2 Viva Towels, Big Rolls
$1/1 Scott Towels, long lasting
$2/1 Depend or Poise products
$1/2 Kleenex Facial Tissue, 72-200 ct
$.75/1 Cottonelle Toilet Paper, 12-pack
$.75/1 Kotex products
Participating brands include HUGGIES® diapers, HUGGIES® Baby Wipes, PULL-UPS® Training Pants, GoodNites® Products, COTTONELLE® Toilet Paper, KOTEX® Products, VIVA® Towels, KLEENEX® Facial Tissues, SCOTT® Towels, DEPENDS® Underwear and POISE® Products.