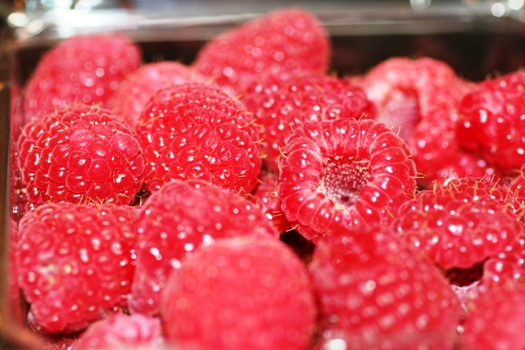 I found raspberries on sale this week at Kroger. After trying to decide what to do with them, this is what I came up with.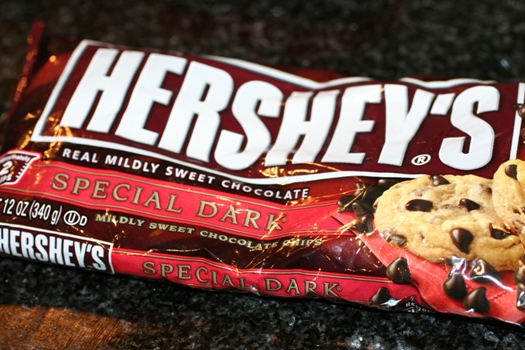 I couldn't get the combination of raspberries and dark chocolate out of my head, plus I had tons of Vanilla Coconut milk on hand.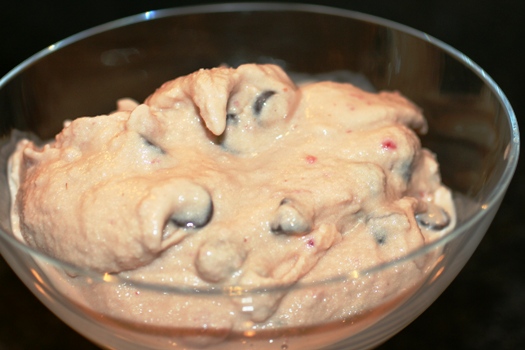 Perfect… homemade ice cream.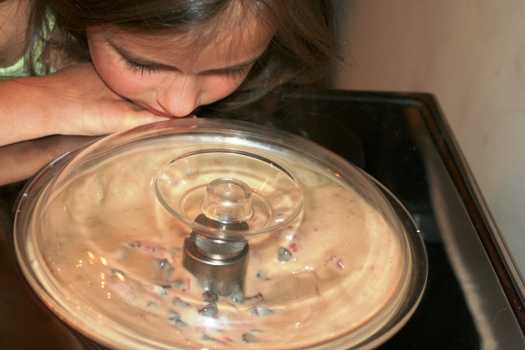 My family was pretty excited about this one, especially my daughter. She sat by the machine drooling.
I have to say it is not any cheaper to make than purchasing the So Delicious brand at the store, but I know exactly what is in it!
This is a cream base, which means  the eggs are not cooked, but my mom and my grandmother always made it this way and it is terrific.  I get my eggs down the road from a local farm, so I feel very comfortable with their quality. There are other recipes out there that cook it and make a custard base, but I prefer this taste. It is amazing!
Raspberry Ice Cream with Dark Chocolate Chips
6 eggs, beaten
1 can sweetened condensed milk
6 cups milk
1 teaspoon vanilla
8 oz raspberries
1 cup sugar (I use turbinado)
1 cup dark chocolate chips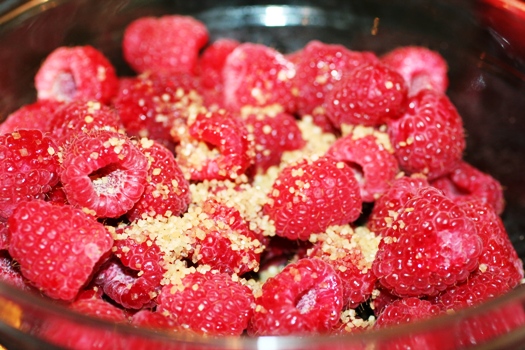 In a medium bowl add raspberries and sugar.  Crush with the back of a spoon and stir. Set aside for 15 minutes and let it macerate.  This just means let the juices come out!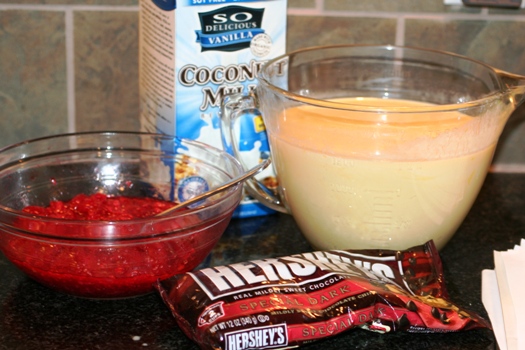 In a large bowl combine eggs, milks and vanilla.  Add raspberries and chocolate and stir.
Pour into the ice cream maker of your choice and enjoy!
Note:  If you use a flavored milk like Vanilla Coconut or Almond, I would cut the sugar in the recipe by half.
Print Recipe: Click on the green "print friendly" icon at the bottom of this post, and check "remove images" for a printable version.
Recipe developed by Kelly Hancock ©2010 Faithful Provisions. For personal use only. May not be reproduced, reprinted or distributed for capital gain without prior permission from Kelly Hancock.