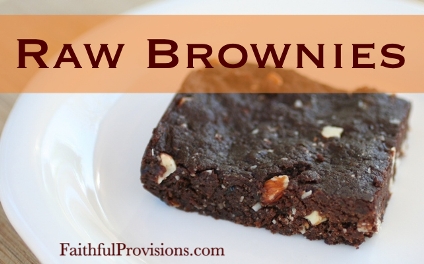 I posted a picture of a pan of raw brownies on Facebook yesterday, and I have to say, I was excited about your response! If you follow my Facebook page, you may have noticed that I often post about what I am eating. For me, that's a way to see what my readers are interested in. Well, everyone is definitely interested in this! And since so many people asked me for the recipe, here it is.
*Scroll down to use print recipe feature and add to your Recipe Box.
Raw brownies are not at all what you would imagine. Honestly, calling anything "raw" makes it sound kind of gross! But what it means is simply that it is uncooked–a more pure version of the recipe. Obviously, since this isn't going in the oven, I can't put eggs in it, right? And as I mentioned on Facebook, this is a sugarless treat as well, but you would never know it. The sweetness comes from the dates. You need to try to use medjool dates for this recipe. They have more moisture so your brownie ingredients will bind together better. (If you can't find medjool dates, then you will need to add another binding agent, like a tablespoon of coconut oil. You may have to play with it a little to see how much moisture to add. Let me know if you have to go this route. I'm interested to know how they turn out.)
These raw brownies are rich and decadent, similar to a flourless cake—much like a torte. It is so very chocolaty, fudgy, and absolutely indulgent! But don't worry, you won't eat a huge piece. You won't be able to because it is so rich.
Oh, and did I mention that with no baking required, this recipe is super easy and quick. Makes about 8-10 small brownies.
A few options
If you really want some chocolate, you could put a few mini chocolate chips in it.
You can also top with sea or kosher salt (my personal favorite).
Raw Brownies
Ingredients
1 cup walnuts
1 cup medjool dates (About 10 pitted. When you get the dates, you will have to slit them and pop the seed out. It's really easy, and not messy at all.)
⅓ cup cocoa powder
½ cup almonds (chopped)
¼ teaspoon of cinnamon
⅛ teaspoon salt
Instructions
Put walnuts in food processor and process until they are the consistency of meal.
Add dates one at a time.
Add salt, cocoa powder, and cinnamon.
Chop or beat the almonds to pieces, then finish them up in the food processor for a couple of pulses.
Use a small baking dish. (I used a smaller size, but still just used half of it.) Take the mixture which should feel really mealy and dump it in pan, and then just press it down evenly. (It reminds me of the consistency of a Lara bar.)
Be sure to line your pan with wax paper.
Refridgerate for about 15 minutes to firm it up.
COOK'S NOTE: You will be surprised how much natural oil the nuts have in them, along with the dates, that enable this to bind and stick together. When you press it down, you'll have oily hands!
Are you interested in eating more "clean" and "raw" recipes? Let me know in the comments below. I'd love to share more of these types of recipes with you!
Adapted from My New Roots