Read Through The Bible
Earlier this year I shared my favorite yearly devotionals with you.  While I love spending quiet time with a great devotional, one of my goals has always been to read through the Bible.  The problem is that I haven't taken the time to find a program I liked or that I could stick with…until now.  Thanks to the recommendations of my Facebook readers (and my sister!!!), I finally found my new favorite way to read through the Bible.
A few months ago my sister told me to check out The Daily Audio Bible.  I absolutely LOVE IT!  Each day Brian reads an Old Testament, a New Testament, a Psalm and a Proverb.  At the end, he does a commentary and overviews the history and gives his take.  Plus, he changes versions each week, so I've been able to hear from the NIV, The Voice and the Common English Bible so far.  You can listen online for Free from their site, or you can download the iPhone app for just $.99. I opted for the app because I can rewind or fast forward if I missed something. I miss a lot, so it works great for me!
There is one more reason I love it… I can listen to it while I am knitting, cooking, getting ready or in the car!  My husband and I are now in a habit of listening to that day's reading every night before bed.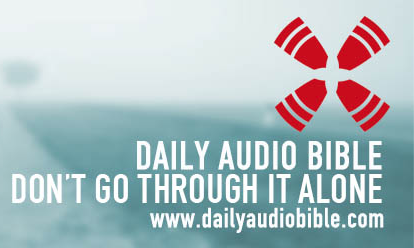 I would love to hear about how you have read through the Bible or if you are right now. Have you listened to The Daily Audio Bible?