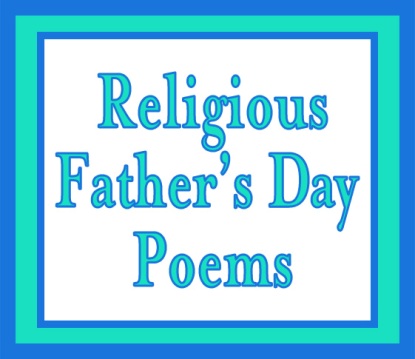 If you are looking for more "religious" poems for Father's Day, you might try these below. They are so sweet and can be used no matter the age. I think these would be precious if a elementary-aged child recited these to Dad. Or printed out in a pretty scripted font, matted, and put inside a frame.  Which one is your favorite?
Our Dad
God took the strength of a mountain,
The majesty of a tree,
The warmth of a summer sun,
The calm of a quiet sea,
The generous soul of nature,
The comforting arm of night,
The wisdom of the ages,
The power of the eagle's flight,
The joy of a morning in spring,
The faith of a mustard seed,
The patience of eternity,
The depth of a family need,
Then God combined these qualities,
When there was nothing more to add,
He knew His masterpiece was complete,
And so, He called it…
Dad
~Author Unknown
My Hero
My hero is the quiet type,
No marching bands, no media hype,
But through my eyes it's plain to see,
A hero, God has sent to me.
With gentle strength and quiet pride,
All self-concern is set aside,
To reach out to his fellow man,
And be there with a helping hand.
Heroes are a rarity,
A blessing to humanity.
With all they give and all they do,
I'll bet the thing you never knew,
My hero has always been you.
~Author Unknown
Just Like My Daddy
God, I bet Your hands are really big and strong,
Just like my daddy.
God, I bet You sing in the shower–happy songs–
Just like my daddy.
God, I bet You cheer for me when I get to first base,
Just like my daddy.
God, I bet You have a smiling face,
Just like my daddy.
~Author Unknown
I think you'll also like these really cute, funny Father's Day poems for cards for kids to make for Dad.
There are lots of free Father's Day poems available, but none quite like this classic poem about dads by Helen Steiner Rice.