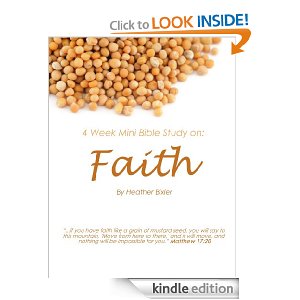 Please join my readers and me on the Faithful Provisions Facebook page TONIGHT from 8-8:30 (CST) in our last week of our 4-week study of  Faith: Four Week Mini Bible Study by Heather Bixler.  Tonight we'll be discussing Week #4 on "Grace".  How are we on the last week already?!  The time went by so fast.  Even if you haven't read the lesson, please join us!
WHAT: Faithful Provisions Bible Study (#FPStudy- Twitter Hashtag)
The book was previously offered as a Free Download, but you can still download it for only $.99.
WHEN: TONIGHT, Tuesday, May 15th, 8:00 – 8:30 PM (CST)
WHERE: The Faithful Provisions Facebook page
HOW: Help us spread the word! Use the Facebook buttons and "Like" this post if you want to join me, and please use the "share" button to help me spread the word! Below as some sample posts you can put on your wall to help out:
Twitter:
Join me & @FaithfulProv for an interactive #Bible Study on Faith! Details: http://bit.ly/HHxJDY #FPStudy Pls RT
Facebook:
I'm joining Faithful Provisions for an interactive Bible Study on Faith. We'll be chatting about the book on Facebook Tuesdays at 8pm CST. Join us: http://bit.ly/HHxJDY
[fblike]
You might also like: