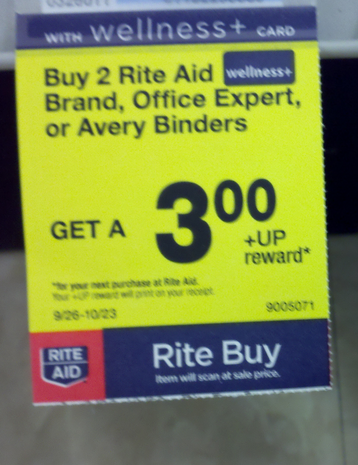 These are clearance deals so it may vary from store to store, but Shannon over at For the Mommas found a few good ones I wanted to pass on.  Right now there is a UPR (+UP Rewards) that is printing for the month for $3 when you buy 2 binders.  Pair that with the clearance deal for FREE binders.
::  If you haven't shopped Rite Aid, be sure to checkout my Rite Aid 101 Tutorial before heading out.
Clearanced Binders — $.75 – $1.79
*Earn $3 +UP Reward wyb 2 at checkout
Final Price:  As low as FREE wyb 2
Clearanced Oral B Pulsar Toothbrushes — $1.69
*Earn $3 +UP Reward
– $1/1 Oral B Pulsar Toothbrush 9/26 P&G insert
Final Price:  FREE + overage!
Living Generously Tip: This is a great opportunity to get supplies for school donations.