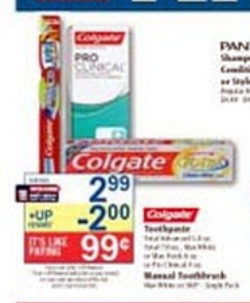 Rite Aid has released a new rewards program called "+UP Rewards". It is similar to the CVS ECB program, except there are no household limits. Since this program is fairly new, expect changes and possible issues. Go HERE to sign up for UP Rewards at Rite Aid.
Here's an example:
Each week there are items in the Rite Aid ad you can earn +UP Reward (or UPR) on.  For example, in the picture above, you get a $2 UPR wyb Colgate toothpaste at $2.99.
The UPR will print on your receipt like this:

Rolling:  Use the UPR like "Rite Aid cash" to purchase other items in the store. You can "roll" UPR's to buy more of the same item. Here's an example: In your first transaction, buy Colgate at $2.99 & earn $2 UPR.  In a second transaction, buy another Colgate at $2.99, pay with your $2 UPR from first transaction#1 & $.99 oop and earn another $2 UPR. You could continue to repeat this.
Limits:  There is a limit to 1 "like" UPR per transaction. Meaning if you purchased 10 Colgate toothpastes, it would still only print 1 UPR. You would need to do 10 separate transactions to get additional UPR's.
Totals:  Your total must be over the amount of the UPR. Unlike ECB at CVS, the cashiers cannot adjust the price of the UPR down. So if your total is $1.99, you would need to find a small filler item to get your total higher in order to use the $2 UPR you earned from Colgate.
Photos Souce: For the Mommas