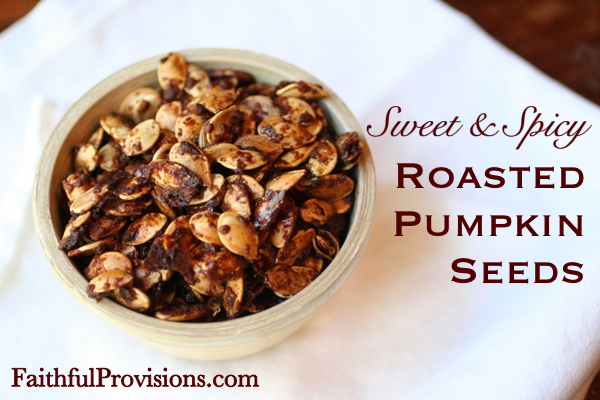 This roasted pumpkin seed recipe is sweet, simple, and delicious–a perfect fall afternoon snack. The kids and I look forward to making these, but they never last very long! Around here these lasted about as long as it took them to cool.
*Scroll down to use print recipe feature and add to your Recipe Box.
Whether you're carving your pumpkin or roasting it to use in fall recipes, you want to use everything that you can. So don't throw out those pumpkin seeds! Pumpkin seeds are a good nutritional source, containing protein, zinc, magnesium, as well as a significant amount of iron.
Pumpkin Seeds Roasted in the Oven
The kids and I did our pumpkin seeds roasted in the oven yesterday. What was funny to me is that my daughter absolutely loved this activity. The guts of a pumpkin are so slimy and stringy, and while she is usually grossed out by anything like that, this was cooking, so she loved it! On the other hand, my son, who loves to get his hands on all things dirty and gross (including cradling a centipede or worm lovingly in his hands as he brings it to me so I can see it!) didn't want to touch the messy pumpkin. Kids are so funny! Now, there's no real technique to removing the seeds, but my daughter was doing a pretty good job by sort of "squeezing" them so they popped free from the stringy stuff. If they're not completely clean, don't worry about it. Once you put all the ingredients on them, they are going to taste good.
I let mine sit out for a few hours to dry so they would be good and crisy. In fact, after we removed the seeds, I went ahead and cut up the pumpkin,roasted it, let it cool thoroughly, and then pureed it. Then we roasted the seeds.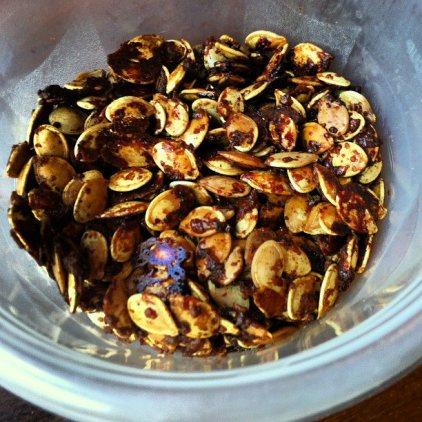 We had them for an afternoon snack. We were able to get about a cup of seeds out of two small pumpkins.
Roasted Pumpkin Seed Recipe
Ingredients
1 cup pumpkin seeds, cleaned
2 tablespoons coconut oil (or other oil)
½ cup sugar (brown, sucanat, or honey)
½ teaspoon cinnamon
¼ teaspoon salt
Instructions
Preheat oven to 300 degrees.
In a bowl, combine all ingredients and spread on a lined baking sheet.
Bake for 35 minutes.
Remove from oven and let cool completely.
Store in an airtight container, if they don't all get eaten!
 Roasting Pumpkin Seeds with Kids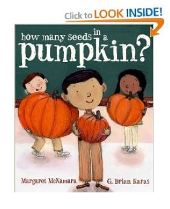 For my readers who are roasting pumpkin seeds with kids, here's a really cute book that you can enjoy with them while you're doing this activity. I just love it–it's called, How Many Seeds in a Pumpkin? You can get it on Amazon or from your library. Basically, it explains that size doesn't matter when it comes to pumpkin seeds. A small pumpkin might have more seeds than a large one. It teaches an important truth to children that it's what is on the inside that really counts, and you don't know what's on the inside by merely looking at the outside. It reminds me of this verse from 1 Samuel 16:7, "The LORD doesn't see things the way you see them. People judge by outward appearance, but the LORD looks at the heart."
Do you roast pumpkin seeds? How do you do yours? What kind of seasonings do you use, if any?