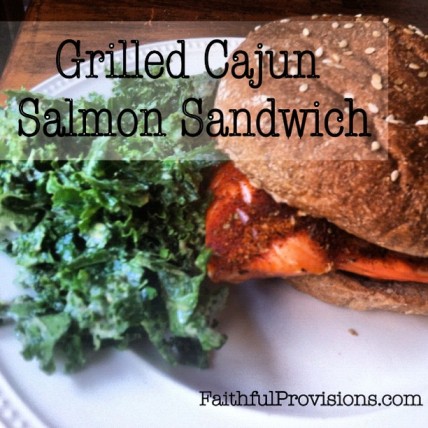 Every time salmon goes on sale, I buy several fillets and freeze them so I can make these grilled salmon sandwiches with a great Cajun flavored spread.
*Scroll down to use print recipe feature and add to your Recipe Box.
Salmon Sandwich Recipe
This salmon sandwich recipe is so simple but so good! Since I am nuts about strong, spicy flavors, my favorite part is the Cajun lemon mayonnaise. This mixture of creamy texture paired with a spicy, citrus-y zing is what makes the flavor pop!
Bacon. Do I need to say more? The smoky flavor of bacon as an additional topping is perfect, especially if you want to give it a hint of a smoked salmon sandwich taste. If you have bacon on hand, use it–it makes this recipe for a salmon sandwich taste so good you will want to make it everyday. (And eating salmon every day would be good for you! You would be getting tons of omega-3's.)
No more talking–now time to make it and eat. Enjoy!

Grilled Salmon Sandwich Recipe
Ingredients
2 - 4-6 ounce salmon fillets (or one 8-12 ounce piece)
1 tablespoon oil (grapeseed or canola)
3 tablespoons Cajun seasoning
2 whole wheat buns
¼ cup mayonnaise
1 tablespoon fresh lemon juice
2 bacon slices, cooked (optional)
Instructions
Generously sprinkle Cajun seasoning (about 2 tablespoons) on flesh side of salmon. I leave my salmon whole with the skin on. It is easier to cook on the grill, no sticking!
Grill skin side down for 5-8 minutes or until salmon is cooked.
While salmon is on the grill, combine mayonnaise, lemon juice, and one tablespoon of Cajun seasoning. Stir until mixed well.
Lightly toast buns on grill, cool, then generously spread with mayonnaise mixture.
Top bun with cooked salmon, bacon, and any favorite toppings.
Find more recipes for Sandwiches and Wraps in my Recipe Box.
Recipe developed by Kelly Hancock ©2010 Faithful Provisions. For personal use only. May not be reproduced, reprinted or distributed for capital gain without prior permission from Kelly Hancock.