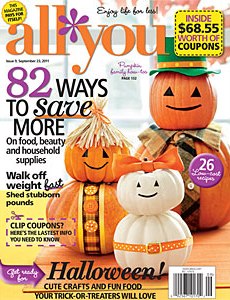 Check out the September issue of All You magazine and you will find a feature on my new book, Saving Savvy: Smart and Easy Ways to Cut Your Spending in Half and Raise Your Standard of Living…and Giving! Just look on page 27, and you'll see the article, "Stock Up, Store More, and Cut Waste," by Claire Rock. These are great tips on how to organize your pantry and freezer and how to carve out more space so you can store the great deals you find.
Don't get All You magazine? Subscribe here. You'll love the great articles and tons of money-saving coupons in every issue!
Download my FREE templates:
See a listing of all the coupons available in September's All You magazine HERE.