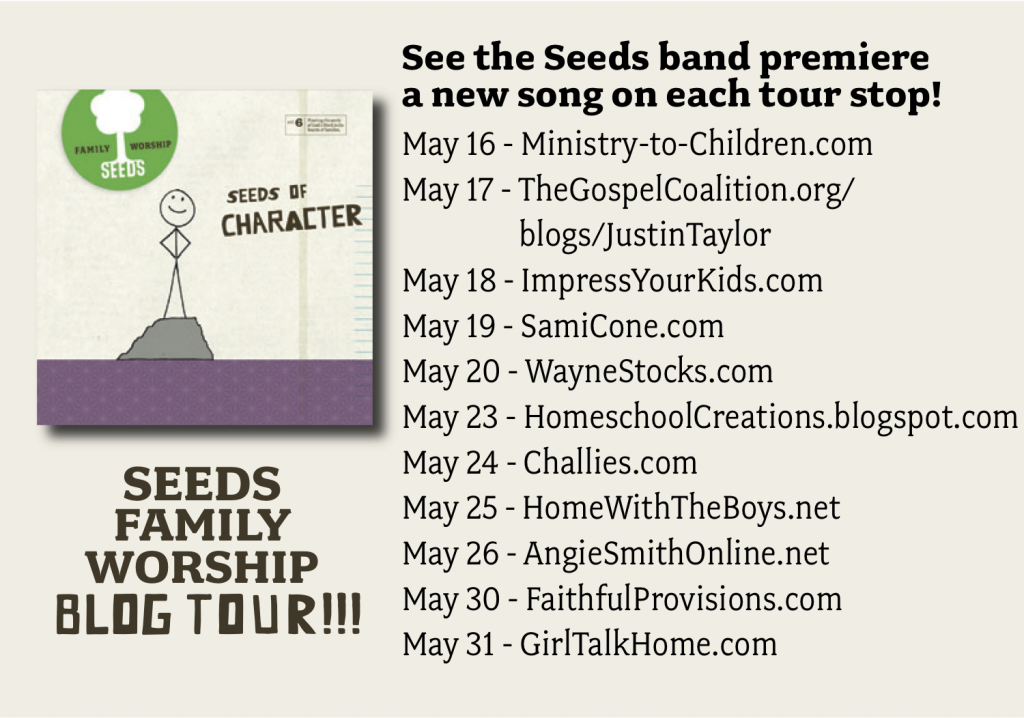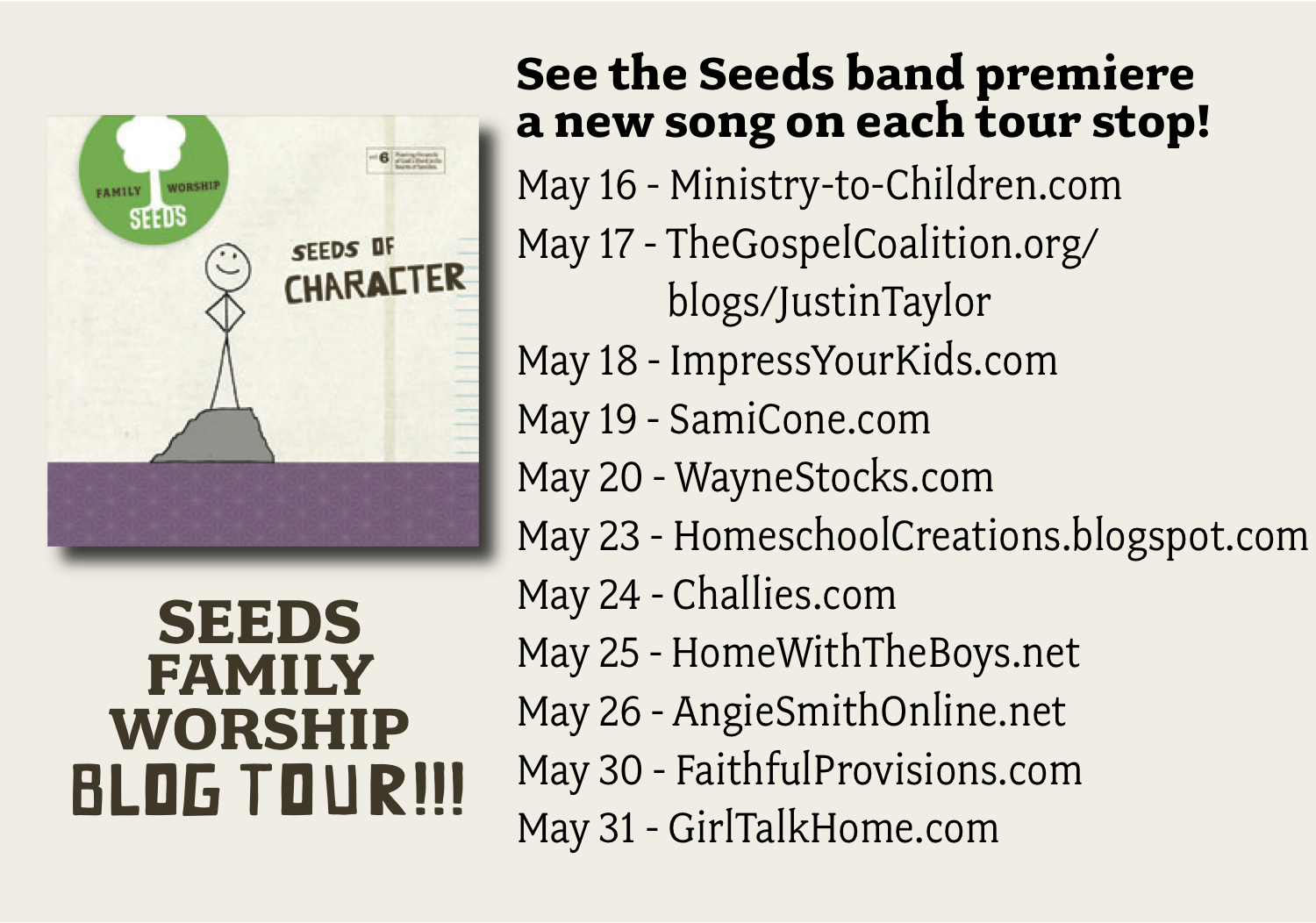 What is the Seeds Family Worship Blog Tour?
The Seeds Family Worship Blog Tour is stopping here at Faithful Provisions today, and I couldn't be more excited! I've mentioned Seeds many times in my posts, and how they have meant so much to me as a parent over the past year. Their songs that put verse to music have enabled me to get tons of Scripture written on the hearts of my children–before they are even reading! But more importantly, they are writing scripture on my heart that help me in guiding my children to the Lord.
My favorite part about their music is that it is for anyone. It is not just "kids music," it is for the entire family. You know how you laugh at leaving your "kids music" on after the kids get out of the car? I leave Seeds Family Worship music on purposefully because I love it! Being from Music City should tell you a lot. 🙂
So let me pause to just say a big THANK YOU to Seeds for being a channel God has used to write His Word on my heart, the hearts of my children and ultimately, the hearts of my future grandchildren. Now, that will make you stop and think!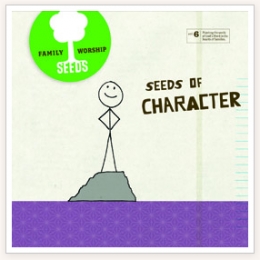 New Album— Seeds of Character !
Seeds has just released a new CD, Seeds of Character, and this collection continues to bless families with God's Word, expressed so beautifully, and poured out to flow freely in our homes, cars, and hearts! This compilation of Scripture helps the listener learn what God means when He talks about our character–how He grows the character of His Son in each of us, how that is His job, and how we must depend on Him fully throughout the process!
20% off Code for Faithful Provisions Readers
In celebration of the new Seeds of Character CD launch, Seeds Family Worship is offering Faithful Provisions readers 20% off your entire purchase.  Just head over to the Seeds Family Worship store and put code FAITHFULPROVISIONS at checkout to get the 20% off.
*With each CD purchased, you receive two copies — one to keep and one to give away!  This is my favorite part of their ministry.
*SPECIAL* – Faithful Provisions Blog Tour Stop "Give Thanks"
Watch the Seeds Family Worship video below for their song "Give Thanks" which teaches Psalm 105:1-5. They give a special shout out to YOU, my Faithful Provisions readers and tell of how God allowed them to be thankful despite obstacles for even recording this CD. I hope you enjoy it as much as I have!
Watch All Blog Tour Videos
With the
Seeds of Character Blog Tour
, you can go back and watch a personalized video of EACH song on the album listed below. Head over to the Seeds Family Worship —
Seeds of Character Blog Tour landing page
to checkout each and every stop on the album.
You can also take a sneak peak and listen to them below and tell me which song is your favorite. My daughters' is More Than Conquerors, I love "Give Thanks" to help me start my day, and I can't wait for her to learn the books of the New Testament listening to the The Only Way (The New Testament Song), then there is also another one of my favorite verses, Galatians 5:15-22, The Fruit (of the Spirit).  But keep scrolling down, for the best one!
More Than Conquerors (Romans 8:37)
The Wages and The Gift (Romans 3:23 & 6:23)
The Life (John 14:6, I John 5:11-12)
The Fruit (Galatians 5:16 & 22)
Delight (Psalm 1)
Teach Them (Deuteronomy 6:4-7)
The Perfect Example (John 13:12-17)
Children and Fathers (Ephesians 6:1-4)
Put On Love (Colossians 3:12 & 14a)
The Character Song (Romans 5:1-5)
Give Thanks (Psalm 105:1-5)
The Only Way (The New Testament Song)