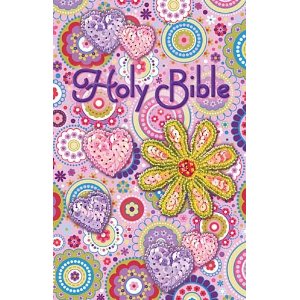 Here are two great Easter Basket ideas for your girls. Those of you that know my little, know what a girly-girl she is.  So, when she saw this Shiny Sequin Bible, she nearly fell over! I am excited to see how this Bible becomes such a conversation starter for her.
This adorable Sequin Bible is bound in floral fabric and embellished with sequins, inviting other girls to ask, "What kind of Bible is that?" and allowing these little girls to share and shine the light of Jesus to her friends!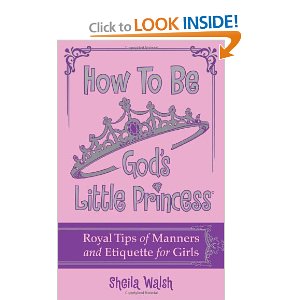 The second giveaway item is How to Be God's Princess by Sheila Walsh. The topics include everything from how to make the best pink cookies and wear a tiara to how to earn money at home and be respectful. It is a great idea  for grandparents to pass on to their granddaughters with its cute pink cover design and important answers to relevant topics. This book is perfect for girls ages 6-10 years old.
========================
GIVEAWAY DETAILS
Tommy Nelson is offering one of each book above to two randomly selected winners. Winners will be announced on Tuesday, April 12, 2011.
Faithful Provisions Giveaway Disclosure: Tommy Nelson sponsored this giveaway by providing me with one of each book and one to give away to a randomly selected winners. For more information about Faithful Provisions, please read my Disclosure Policy.
====================
HOW TO ENTER….
*One entry per person per method of entry per day. Be sure to enter a separate comment for each method of entry (one comment for Facebook, one comment for Twitter, etc.). This way you have a higher chance of winning.
**4 Entries per Person per Day
1. COMMENT: Leave a comment telling me your favorite colors for a new style of the Shiny Sequin Bible. Or share your tip for being God's Little Princess!
2. NEWSLETTER SIGN-UP: Subscribe to my Email Newsletter – even if you already receive it, add an entry as a comment below!
3. TWITTER: Follow Faithful Provisions or Tommy Nelson on Twitter – just copy and paste this message into your tweet
Hey! @FaithfulProv is giving away a Sequin Bible and Sheila Walsh book! Stop by to enter http://bit.ly/ihf9tH #giveaway
4. FACEBOOK: Follow Faithful Provisions or Tommy Nelson on Facebook – just paste this message on your personal Facebook wall so your friends will see it.
Faithful Provisions.com is giving away a Sequin Bible and Sheila Walsh Book! Stop by to enter http://bit.ly/ihf9tH
====================
Giveaway ends April 4, 2011 at 10:00 pm CST. The winner will be drawn using Random.org. Winners will be notified via email and all winners will be posted on the Tuesday Giveaway Round-Up post.