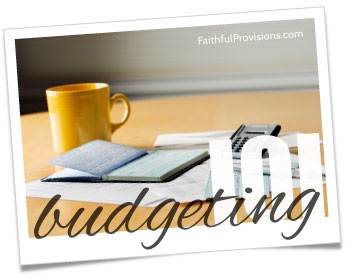 Welcome to my 10-Part series on budgeting.  This series has been updated and I think it is filled to the overflowing with great tips, resources, and practical information that you can really use to make a difference in your personal household budget. I would love your tips and insight as well, so feel free to share your personal stories with all of us here at the Faithful Provisions community by leaving your thoughts in the comments below each post.

1. Getting Started – Sometimes getting started is the hardest part! I want you to be encouraged to take the first step toward changing your financial life.
2. Determine Your Financial Goals– Determine your financial goals and set out to reach them when you know where your money is going and how to plan and save your money.
3. How to Create a Household Budget– You can learn how to create a household budget and start managing your money, saving more, and reaching your financial goals today.
4. Savings and Emergency Funds– You can't get rid of debt and get your budget on track without a plan for Savings and Emergency Funds. When the unexpected happens, you'll get off your budgeting plan without this safety net.
5. Getting Rid of Debt – If you want to learn about getting rid of debt, there is a proven method for tackling debt that will keep you motivated and pushing forward.
6. College Savings Plans and Retirement Accounts– Discover how to begin your family's college savings plan and retirement accounts. Take the steps necessary to begin funding your family's future now.
7. Insurance and Living Wills – Learn about an important part of budgeting: insurance and living wills. Including these items in planning a household budget is an absolute necessity.
8. Children and Money– Looking for tips on children and money? Learn ways to teach children about money with these six tips for teaching kids money principles
9. Stockpiling and Finding Good Deals – You'll really learn how to stretch your budget with these tips for stockpiling and finding good deals.
10. Self-Control – The conclusion of this Budgeting Series, and also, the key to its success, lies in your willingness to be self-controlled.