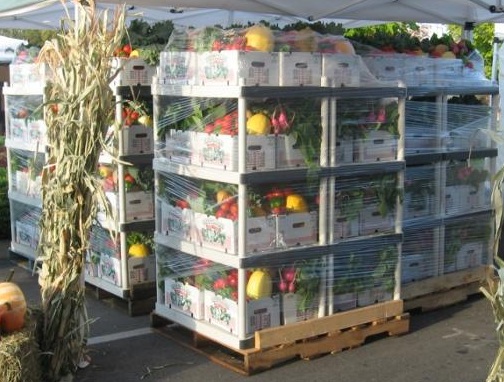 This past Saturday was our weekend to pick up our organic box of vegetables from our CSA.  It had a ton in it, so we have been pretty well set for vegetables:  red and green cabbage, swiss chard, red kale, yellow tomatoes, zucchini, squash, garlic, broccoli, cauliflower and green onions. Whew!  It is too much for us to eat, so I will be doing some serious blanching for all the greens tomorrow. We still had chard and kale left from the last box that are still super fresh in my crisper.
I did make two trips to the grocery this week to grab a few things, here is where I went and the coupons I used at each:
::  This week's Whole Foods Weekly Deals

Organic Avocados, 4 pack — $5.00
Nature's Path Cereal or Granola Bars — $3 (Save $2.78)
–$1.50/2 Nature's Path printable coupon (Whole Foods coupon)
Final Price:  $2.25 each after coupon wyb 2
Back to Nature Gluten-Free Crackers — $3.00
–$1/1 Back to Nature printable coupon (Whole Foods coupon)
Final Price:  $2
Lara Bars — $1.25/ea
–$1/2 Lara Bar printable coupon (Whole Foods coupon)
Final Price:  $.75/ea wyb 2
::  This week's Kroger Weekly Deals
Organic Red Seedless Grapes — $2.48/lb (GREAT PRICE!)

–$1/1 Wonderful Pistachios Rolling
-$1/1 Wonderful Pistachios Product 3/20/2011 SS Insert (exp 6/30/2011)
Final Price: $1.99
Cascadian Farms Cereal and Bars – $2.99
–$1/1 Cascadian Farm Product Rolling
Final Price: $1.99
============================
Did post about your shopping trip this week? If so, post the link below so that all the Faithful Provisions readers can easily find it, link to wherever you posted it online (blog, facebook, etc.) . Be sure to make it easy to navigate by linking directly to your post. Links going to the homepage of your blog or any other part of your blog besides the direct link will be deleted. Posts promoting affiliate and referral links will be deleted.
Tip: Post the Store Name and your total savings in the link title. For example, Publix – Saved $70. Also, be sure to pick the matching image so we can see your score!