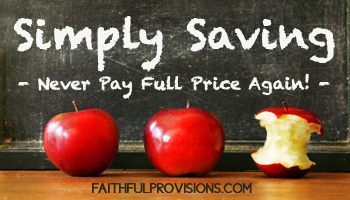 Missed the first posts in the Simply Saving series? Read them here.
Now that you know how to Read a Sale Ad, let's get into details on the different types of sales that stores run. It is very important to know your stores policies on their sales, it can make a big difference in your total price.
There are three main types of store sales:
Buy One Get One Free
Otherwise known as BOGOF or B1G1F, a buy one get one free sale is exactly what is says. Typically, large grocery store chains will let you purchase a single BOGO item at half price. Drug stores and smaller or specialty stores typically do not. They require you to purchase both items to receive the discount. Check with your store's customer service department to verify this, though.
10 for $10 Types of Sales
With the X for $X sale, you can usually purchase just one of an item and still get the sale price. For instance, if your store runs a sale where you buy 10 cans of green beans for $10, most store policies let you purchase just one can for $1.
Participating Item Sales Events
In general, these sales are only found in large store chains, but the savings on these can be huge if you plan it just right. These types of sale involve purchasing a either a required dollar amount or number of participating items to receive a discount at checkout. These can be great when you can coupons that match with the participating items.  I see these most frequently at my Kroger affiliated stores in the form of a "Mega Event".
Do you have any tips on using store sales to save big? Share them in the comments below.
Join use every week at Faithful Provisions for our Simply Saving tips.
Coming next week….