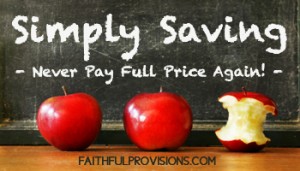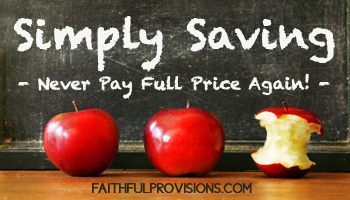 Missed the first posts in the Simply Saving series? Read them here.
Welcome back to another installment in my series, Simply Saving – Never Pay Full Price Again! Today we're continuing the basics of saving money with three reasons why meal planning is so important!
Why Should I Meal Plan?
We plan our work schedules, vacations, and retirement. We plan our date nights and make schedules around TV shows and kids' activities, but we don't give a lot of time to meal planning. If you haven't thought about trying this, it can be a lifesaver for you.
Keep your sanity.
By having a meal plan, I have peace of mind, feel better about what I will be eating during the week, and save so much time. Meal planning keeps me from just wandering the aisles of the grocery store and backtracking the whole time I am there.
Stay organized.
What I have found, and so many others, is that it is critical to create a meal plan before you head to the grocery store. It can be as simple as knowing what meals you will be making, instead of just shopping for whatever your mood is. Meal planning is not only good so you know what you are going to fix for dinner each night, but it also helps you know what to put on your shopping list.
Save money.
Meal planning eliminates overbuying, which leads to waste. It enables you to make food purchasing choices with realistic expectations of what your family will consume.
Honestly, planning ahead for my family's meals was not something I was excited about. At first it felt like another chore to do around the house and I didn't see the value in getting organized to that degree. In my mind it was going to take a ton of work and be very time-consuming. What I found, however, was quite the opposite. It wasn't that hard to stay organized. Also, the savings far outweighed the work I put into it. Check out my Free Downloadable Meal Planning template for help in getting organized in this area!
The "Why Should I Meal Plan" post is brought to you by E-Mealz. You can find out more about E-Mealz Meal Planning Subscription services on their website.
Do you meal plan? I'd love to hear how and why you do!