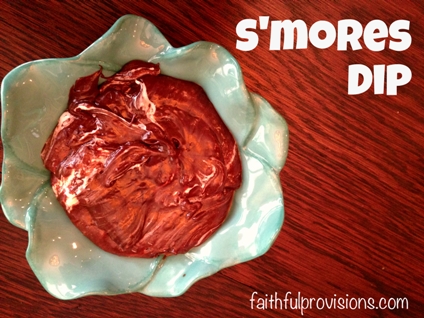 Recently I had a couple of friends tell me that they had made a S'mores Dip, so I thought I would try to come up with my own recipe. She called it "S'mores Crack", if that tells you how good a dip like this can be. After all, I love sweetened condensed milk, marshmallows, and chocolate, so I knew I would love them put together!
*Scroll down to use print recipe feature and add to your Recipe Box.
What I really love about this recipe is that it gives me the whole S'mores taste and experience without the mess. No campfire is required, and if there are leftovers, you can just store them in an airtight container in the fridge and you've got this on hand for snacks.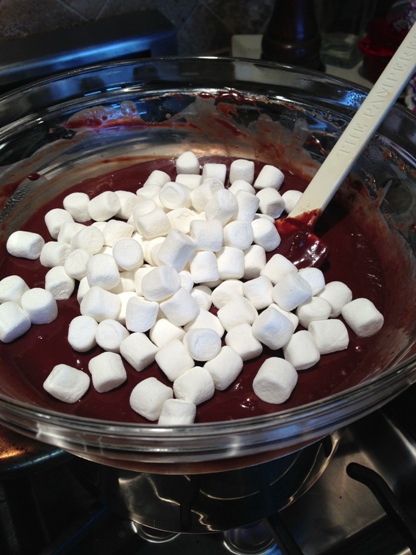 All you have to do is put the sweetened condensed milk, marshmallows, and chocolate together in a double boiler to create this dip. A double boiler is just a saucepan with a detachable upper compartment that is heated by boiling water in the lower compartment.The gentle heat that results is perfect for more delicate preparations like sauces, custards, and melting chocolate. I usually just use a thick glass bowl, like this Stackable Glass Mixing Bowl set, I have, using the medium size. Whatever fits neatly in the saucepan without falling in.
TIP: I want to strongly encourage you not to be tempted to take a short cut via the microwave! If you do, your marshmallows will become rubbery and hard once they cool off, and you won't have the option of saving your leftovers.
As far as what you use for dipping, I love the salty-sweet taste mixture of using the honey graham pretzel sticks as my dipper of choice. You could also try the traditional graham crackers (or go for a chocolate coma with the chocolate graham crackers), jumbo marshmallows, or fruit (bananas, green apples, strawberries, and cherries). What do you like best?
Be sure to read my post about my Aldi Summer Party with S'mores Bar — this was the perfect birthday party treat for my daughter's eight-year-old celebration!
Smores Dip Recipe
Ingredients
1 12 ounce package semi-sweet chocolate chips
1 can sweetened condensed milk
1 cup miniature marshmallows
Instructions
Put all ingredients in a double boiler and heat until melted, about 5 minutes.
Find all things S'mores on my S'mores Pinterest Board!
Recipe developed by Kelly Hancock ©2013 Faithful Provisions. For personal use only. May not be reproduced, reprinted or distributed for capital gain without prior permission from Kelly Hancock.