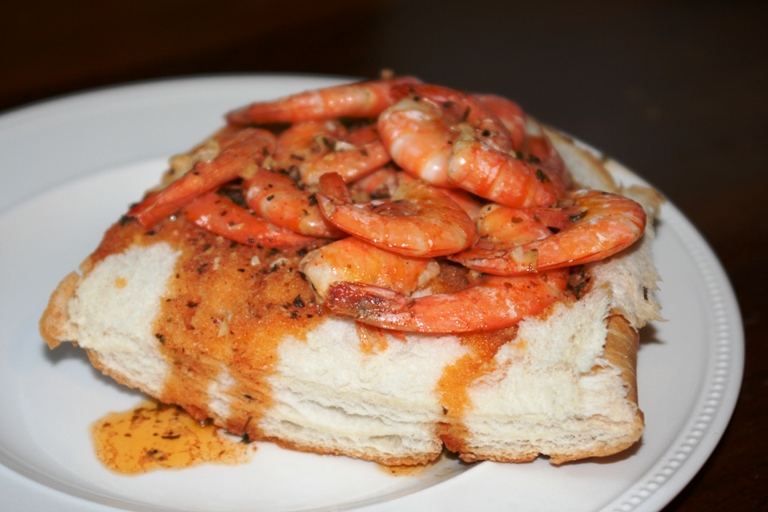 We first had this on one of our many trips to the Gulf Coast.  My husband and I got married down there and one of my dearest friends lived there.  Her husband owned a chartered fishing boat, so the seafood was abundant when we went there. Each visit we went to her house and she always made us these amazing seafood meals.  This is one of our all time favorites.  When I told my husband I was making it, his face just lit up!
I picked this because shrimp was on sale this week at Kroger for $3.99/lb for the 40-50 count, which is a really good price.  The larger the number, the smaller the shrimp, but even the small ones are great here.  It just makes for a little  more work peeling them! These were also wild caught, which means they don't have any hormones and antibiotics, similar to the "organic" label.
Spicy BBQ Shrimp over French Bread
1 stick butter
1 lb fresh unpeeled shrimp
2 teaspoon liquid crab boil or 1 tablespoon ground seafood seasoning
1/4 cup olive oil
1 tablespoon parsley flakes
3/4 teaspoon fresh basil or 1/2 teaspoon dried basil
1 teaspoon fresh oregano or 1/2 teaspoon dried oregano
2 large garlic cloves, minced
3/4 teaspoon kosher salt
1 teaspoon black pepper
3 tablespoons lemon juice
2 teaspoons paprika
loaf of bread, split in half
Preheat oven to 400 degrees.
Melt the butter in a shallow baking dish in the oven while it preheats. Wash the shrimp under cold water and drain well.
Add the spices to the melted butter and stir to combine.
Add the shrimp, stir to coat each, and arrange them in a single layer.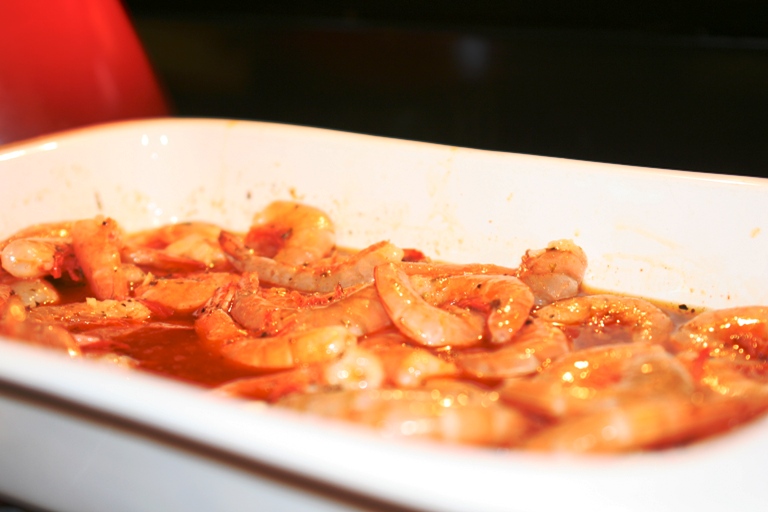 Bake 10 minutes until shrimp are hot and tender. DO NOT OVERCOOK.
Five minutes into cooking shrimp, place the bread in to lightly toast.  Then remove both and pour shrimp and sauce over bread. Serve with a big green salad!
Print Recipe without Images: Click on the "Print Friendly" icon at the bottom of this post and then check "remove images" to print only the recipe.
Recipe developed by Kelly Hancock ©2010 Faithful Provisions. For personal use only. May not be reproduced, reprinted or distributed for capital gain without prior permission from Kelly Hancock.