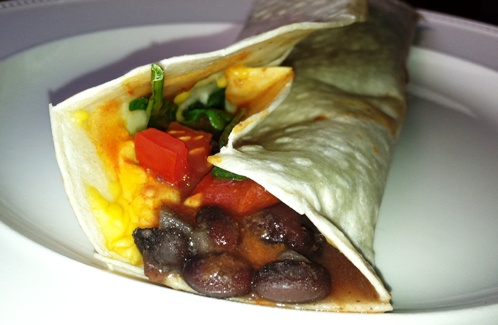 I enjoy this Spinach and Black Bean Wrap for a healthy lunch recipe just about every single day. Its contents actually change depending on what I have on hand. In fact, I honestly had a really hard time naming it anything other than smorgasboard wrap, because that is what it is each day.
*Scroll down to use print recipe feature and add to your Recipe Box.
If you have been reading Faithful Provisions for very long, then you know there are certain staples that will be in it just because I am making it for me. Yes, that's right: hot sauce and cheese! But I add spinach, tomatoes, peppers, roasted veggies, rice, shredded chicken, roast beef, and/or beans (black or refried). It all depends what is in my refrigerator that day. This is a great way to use up bits and pieces of leftovers that would otherwise go to waste. (Read my post, How I Beat My Challenge to Waste No Food.) Plus, I'm making a little more effort toward learning how to be healthy by putting something fresh and colorful together rather than just grabbing something convenient.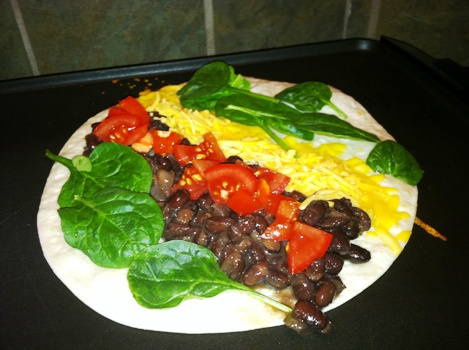 I posted this on my Twitter yesterday, mentioning that I was eating it as my lunch. Several people wanted me to share the recipe for this wrap, so here it is. I hope you like it.
Spinach and Black Bean Wrap
Ingredients
1 tortilla (wheat is preferred)
2 tablespoons shredded cheese
2-3 dashes hot sauce (Frank's, Tabasco, your favorite!)
Small handful of fresh spinach
3 tablespoon beans (black or refried)
1 small tomato, diced
Instructions
Lay tortilla on a flat griddle or in a large non-stick pan on medium to low heat.
Immediately top with cheese, beans, and spinach.
Once cheese is melted, remove from heat and add hot sauce and tomatoes.
Fold and enjoy!
*Cook's Note: Don't leave the tortilla over heat too long. It willl get hard and difficult to fold. Just heat long enough to heat through and keep the temperature low.
You might also like:
See all my Recipes for Sandwiches, Wraps, and Pizza HERE.
Recipe developed by Kelly Hancock ©2010 Faithful Provisions. For personal use only. May not be reproduced, reprinted or distributed for capital gain without prior permission from Kelly Hancock.