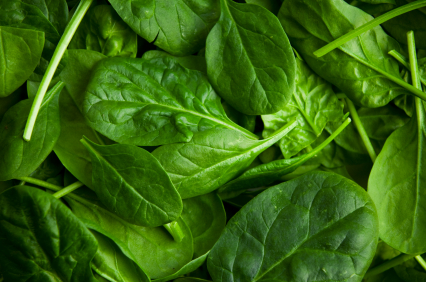 photo credit: iStockPhoto
Welcome to my new series called The Ingredient Exchange. Each week I will highlight a different ingredient and link to some of my favorite recipes. There will be thumbnail link at the bottom of each post so you can share your favorite recipes by ingredient. These links can be from your own blog or from another place, but the goal is to have a great list of recipes to pull from for each ingredient chosen.  In addition, there will be a link to each week's link ups on my Ingredient-Based Recipe Index so you can easily find them in one place.
========================================
So…SPINACH. I thought it would be good to start off with something nice and healthy, because who couldn't use a little more nutrients in their diet? Also, because I frequently find spinach on sale. You can opt for the fresh, or the frozen boxed spinach variety. I often get the frozen spinach for free by combining a sale with a coupon. Depending on which type of spinach you have on hand, will dictate how you use it.
Some of my favorite ways to use fresh spinach are…
Blueberry Spinach Smoothie
This is my favorite breakfast. Not only am I getting a healthy breakfast, but I am getting my vegetables in, in the morning. Believe me this does not taste like it has fresh spinach in it! My kids even ask for it. I promise.
Spinach Salad with Hot Bacon Dressing
I love salads, so when I find spinach on sale, that is my salad base for the week. This recipe is a great choice for a main course, I just a nice bread and I'm done.
Sauteed Garlic Spinach
Since spinach wilts down a lot when cooked, this is how I use spinach that is about to expire. It is a good way to use a lot of spinach at one time.
::  Checkout all of my favorite recipes using SPINACH.
============================
Have a recipe you would like to share either on your blog or elsewhere? If so, post the link below so that all the Faithful Provisions readers can easily find it. Be sure to make it easy to navigate by linking directly to your recipe post. Links going to the homepage of your blog or any other part of your blog besides the direct link to a recipe will be deleted. Posts promoting affiliate and referral links will be deleted.
Tip: Post the recipe name you are linking to in the link title. For example, Beef Wellington. Also, be sure to pick the matching image, it makes it so much easier to visually find the recipe you are looking for!